[ad_1]

Secretary of State Antony Brinken said on May 3 that Russia's accusations that Ukraine tried to assassinate Russian President Vladimir Putin by attacking the Kremlin should be taken with a "very big salt shake". .
In a conversation with The Washington Post's David Ignatius, Brinken said he had "seen the reports" but "cannot verify them" as "we simply don't know".
Blinken continued:
"So let's see what the facts are. And it's really hard to comment or speculate on this without really knowing what the facts are.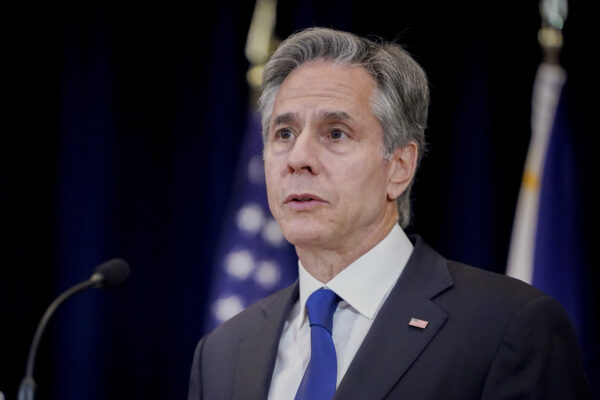 "When it comes to Ukraine, not only the incredibly brave military, but also civilians are attacked every day.
"These men, women and children are routinely attacked by this Russian invasion, their homes, apartments and streets bombed, their children killed and their families torn apart.
"Hmm, I'll leave it to Ukraine to decide how to defend itself, how to take back territories illegally seized by Russia over the past 14 months, dating back to 2014."
A video posted on the local Moscow news agency's Telegram channel showed what appeared to be a drone that was intercepted over the Kremlin and caused an explosion over the building.
The authenticity of the video has not yet been confirmed. Russia claimed this was a "terrorist" act by Ukraine.
Ukrainian President Volodymyr Zelensky refuted Moscow's accusations.
"We will not attack Putin or Moscow," he said at a press conference. "We fight for our territories. We defend villages and cities."
Ukrainian presidential adviser Mikhail Podryak said Russia's claim that Ukraine had launched a drone strike over the Kremlin was an attempt "to justify a large-scale attack on Ukrainian cities, civilians and infrastructure". claimed to be.
"Ukraine has nothing to do with the drone attack on the Kremlin," Podoljak said.
When asked by Ignatius whether the United States would criticize Ukraine if it attacked Russian territory, Brinken objected.
"Again, these are decisions Ukraine will make on how to defend itself, how to take back territory, restore territorial integrity and sovereignty," he said.
[ad_2]