[ad_1]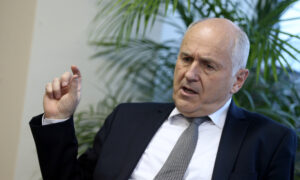 Belgrade — Bosnia's extroverted International Peace Inspector ordered a revision of the criminal law on Friday, granting imprisonment for denying the 1995 Srebrenica massacre. This is a frequently expressed view among Serbian nationalists.
Valentin Inzko's Decree is the longest for those who "publicly tolerate, deny, significantly disrespect, or justify" genocide or war crimes committed during the 1992-95 conflict in Bosnia. The imprisonment is 5 years.
In July 1995, Bosnian Serbian troops seized a UN-protected Srebrenica outpost in the eastern part of the country, killing approximately 8,000 Bosnian Muslim men and boys in captivity.
It was the worst atrocities in Europe since World War II and was determined by two international courts to be a genocide.
Under the 1995 Peace Treaty, which divided Bosnia into Bosnia and Herzegovina and Serbian entities, Inzko, whose 12-year term ended on August 1 on behalf of German Christian Schmidt, imposed law and authorities. Can be dismissed.
"The genocide in Srebrenica, war crimes, crimes against humanity … must not be forgotten or denied," he read.
It was welcomed by the top Bosnian politicians and blamed by the Bosnian Serbs.
Bosnian Serbian leader Milorad Dodik, a member of the Bosnian Tripartite President, said the decree could lead to the dissolution of the former Yugoslav Republic. He repeatedly denied the genocide in Srebrenica.
"This is a Bosnian coffin nail," he said at a press conference. "The Republic of Srpska … has no choice but to begin its dissolution," he said, referring to the semi-autonomous Serbian region of Bosnia.
Bosnian President Sefik Jaferovich, a Bosnian member, said Inzko "has fulfilled his obligations to the victims, his conscience, and the Dayton Agreement."
The decree also envisions a "souvenir or privilege approval … (and gift)" sentence for a convicted war criminal.
The High Commissioner's Office, based in Sarajevo, the capital of Bosnia, was established as part of the Dayton Agreement, which ended the war, which killed 100,000 people.
Under the peace agreement, Bosnia was split between the Federation of Bosnia and Herzegovina and the Republic of Serve, and was united by a relatively weak trilateral president.
By Aleksandar Vasovic
[ad_2]