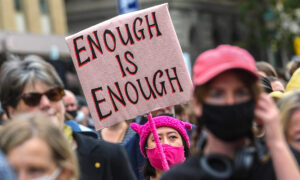 An Australian school has apologised to parents after male students were forced to stand up in a show of compulsory solidarity at an assembly and apologise to the female students for sexism and assault on behalf of their gender.
The assembly, which was held on March 24 at Brauer College, a government school in Warrnambool, in the Australian state of Victoria, elicited an angry reaction from parents and the community, forcing Principal Jane Boyle to apologise.
ABC reported that Boyle conceded that a discussion on sexual assault and harassment held at the assembly had taken an inappropriate turn.
In a statement, Boyle said the male students were asked to stand "as a symbolic gesture of apology for the behaviours of their gender that have hurt or offended girls and women."
"In retrospect, while well-intended, we recognise that part of the assembly was inappropriate," she said.
One parent told The Herald Sun that she was left feeling angry that the school did not tell parents in advance what they planned to do.
Danielle Shepherd, mum to a Year 7 boy at the school, said other parents feel the same way she does.
"They watched a video to do with sexual consent, and at the end of it, they were made to stand up and apologise to the opposite gender on behalf of their own gender," she said.
Shepherd said her son was left confused and upset.
"He wasn't sure why. He just knows that he was told to get up and apologise for things he hadn't done.
"He's upset by it—he now has this misconception that everybody looks at him and males as predators or somebody wishing to do harm to someone in a sexualised manner—seriously, he's 12," she said.
The principal said parents would be contacted to explain the reasons behind the assembly and to ensure that any student who requires support is aware that it is available.
The incident comes as the Victorian state government announced that sexual consent education would be made mandatory in all Victorian state schools.
Acting Premier James Merlino has moved to make the lessons compulsory from next month under an expansion of the Respectful Relationship program.