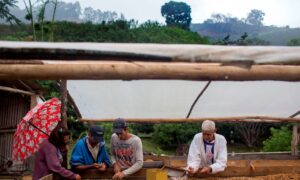 São Paulo — Brazil's agricultural area was hit by a third day of frost on Thursday, affecting not only corn, coffee and sugar cane, but also produce for local markets such as beans, potatoes and tomatoes, consultant Rural Clima said. Says.
In a note to the customer, Rural Clima said the frost had hit west and north of São Paulo, the Minas Gerais triangle, southwest of Goias, and several areas of southern Minas Gerais.
"It affected coffee, sugar cane, meadows, potatoes, corn, beans and tomatoes," said Marco Antonio dos Santos, a local meteorologist in climate change.
Perhaps the corn crops most affected by this week's frost could fall by 6 million tonnes, he added.
"We were expecting a second corn harvest of about 62 to 65 million tonnes, which is now certainly below 60 million tonnes," he said.
Brazil's second-largest corn-producing country, Parana, has been hit hard by frost over the past two days, but not so much on Thursday. On Wednesday, most sugar cane areas in São Paulo, Brazil's largest producer of ethanol and sugar, were frosted.
Brazil's second corn crop is already heavily affected by the drought, reducing potential crops by 20 million tonnes.
Santos added that frost hits areas where basic foods such as potatoes and tomatoes are grown, which could affect inflation in the area over the next few weeks.
Polar masses in central Brazil could lead to new frosts on Friday, Rural Clima added.
Roberto Samora