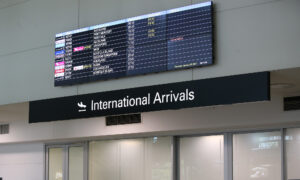 Travelers passing Brisbane International Airport on Thursday were warned of possible coronavirus exposure sites after passing passengers were tested positive for COVID-19.
Queensland Health has identified the seating area adjacent to the Hudson's coffee stand at the airport and the men's toilet adjacent to Gate 79 as areas visited by infected passengers.
Those who were at the coffee stand between 9:53 am and 11:20 am on April 29, or those who were in the toilet between 11:23 am and 11:15 pm that day, were quarantined. It says that you need to take the test.
Passengers showed positive after he and his travel partner, who were in transit from Papua New Guinea to Doha, were accidentally directed to the green zone of the international terminal.
Deputy Chief Health Officer Dr. Sonya Bennett said anyone who was at a designated time at a particular location would need to be quarantined and inspected on Tuesday, May 4, five days after exposure.
The three affected flights are Air New Zealand NZ202 from Brisbane to Christchurch, Air New Zealand NZ146 from Brisbane to Auckland, and Qantas QF135 from Brisbane to Christchurch.
"All of these contacts are likely to be in New Zealand, and New Zealand public health authorities are providing people with similar advice," she said.
"But you need to make sure you capture the contacts that remain in Australia. I've seen CCTV footage and said that anyone who has been to these locations at the time of exposure faces a potential risk. We believe. "
She said the average incubation period for COVID-19 was five days, so it is safe to leave the quarantine if it tests negative on Tuesday.
Serological tests revealed that men are more likely to be in the late stages of infection. This means that there is less risk to others at the airport. He and his travel partners were masked and socially distant while in the green zone other than visiting exposed sites.
AAP