A protest on March 21 in Bristol against a new policing bill turned into a violent riot, leaving 20 police officers injured.
According to the police, two of the officers were taken to hospital with broken bones, and one of them also suffered a punctured lung.
Hundreds gathered outside Bridewell police station in Bristol city centre following a protest in the afternoon against a new bill that would give police new powers to restrict street protests.
The outside of the police station was vandalised. Videos show rioters breaking the windows of the station, and trying to knock over a vandalised police van. Some police vehicles and bins were set on fire later in the evening.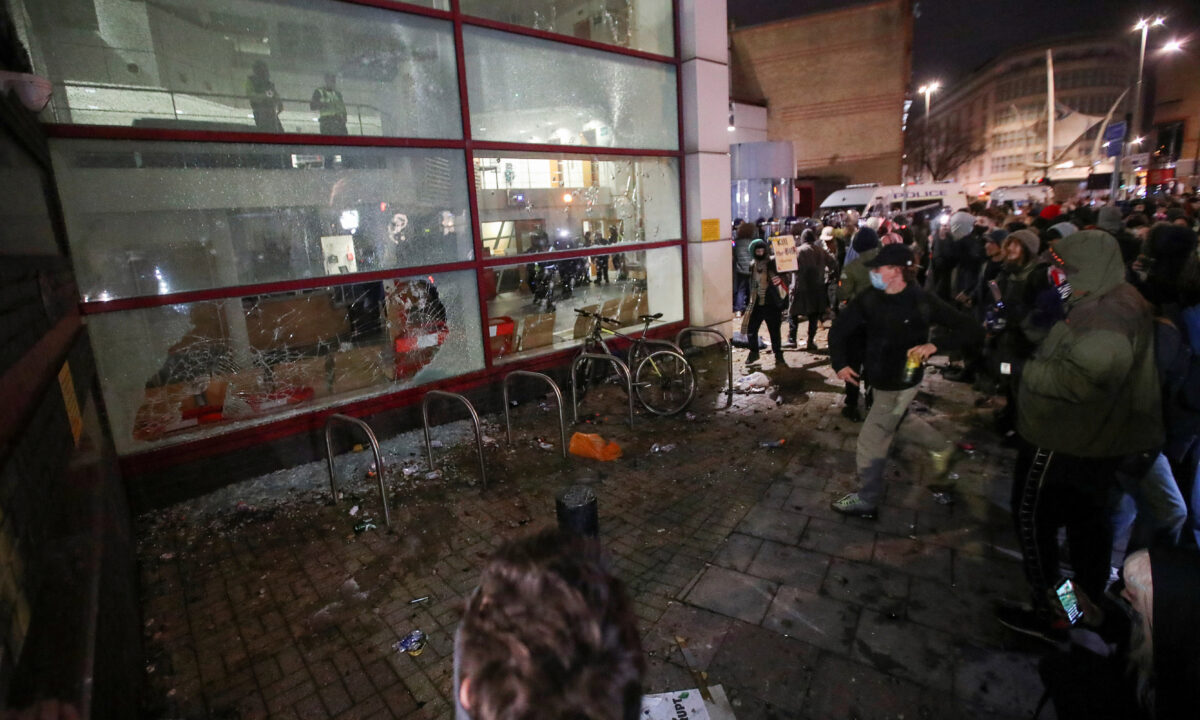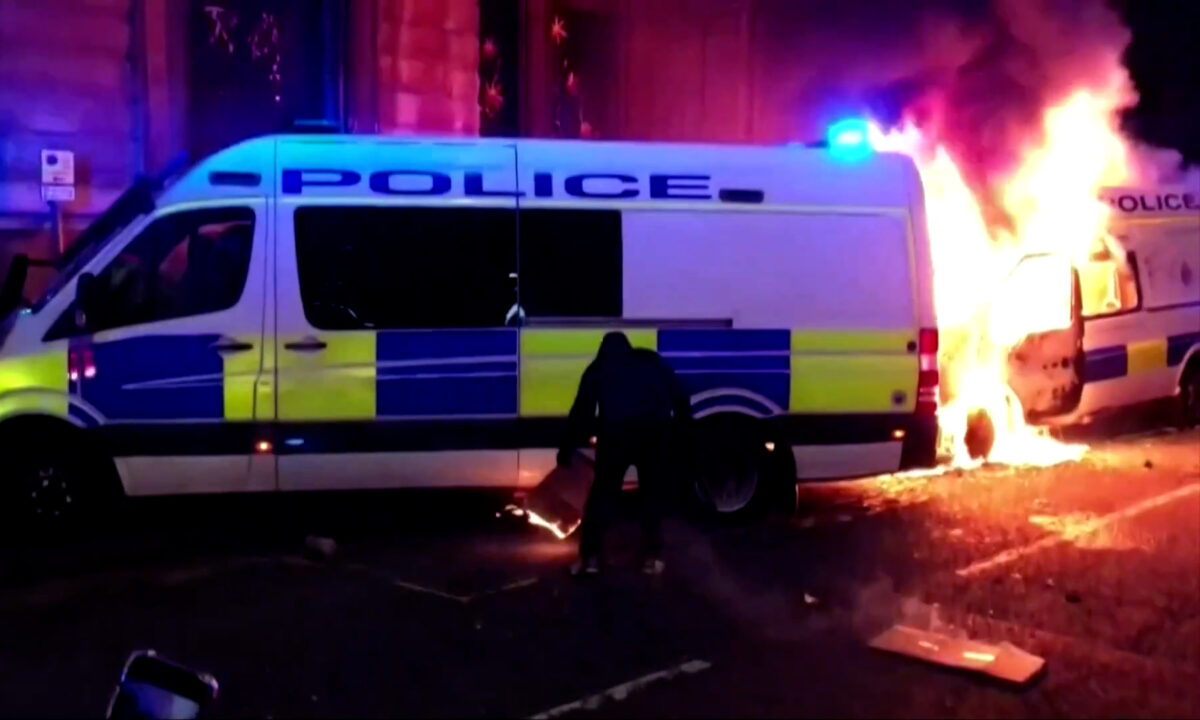 "Overnight seven arrests were made—six for violent disorder and one for possession of an offensive weapon—and a full investigation is now underway," Avon and Somerset Police said in a statement.
Chief Constable Andy Marsh said the police did not have sufficient resources on the ground to make more arrests because there had been "no prior intelligence that violent acts would be committed on this scale."
Marsh said a "huge police investigation" will be launched, in which the police will gather evidence from CCTV, body worn cameras, social media content, and images/video sent in by the public.
Costs to repair the damage and carry out the investigation will "run into the millions," he said.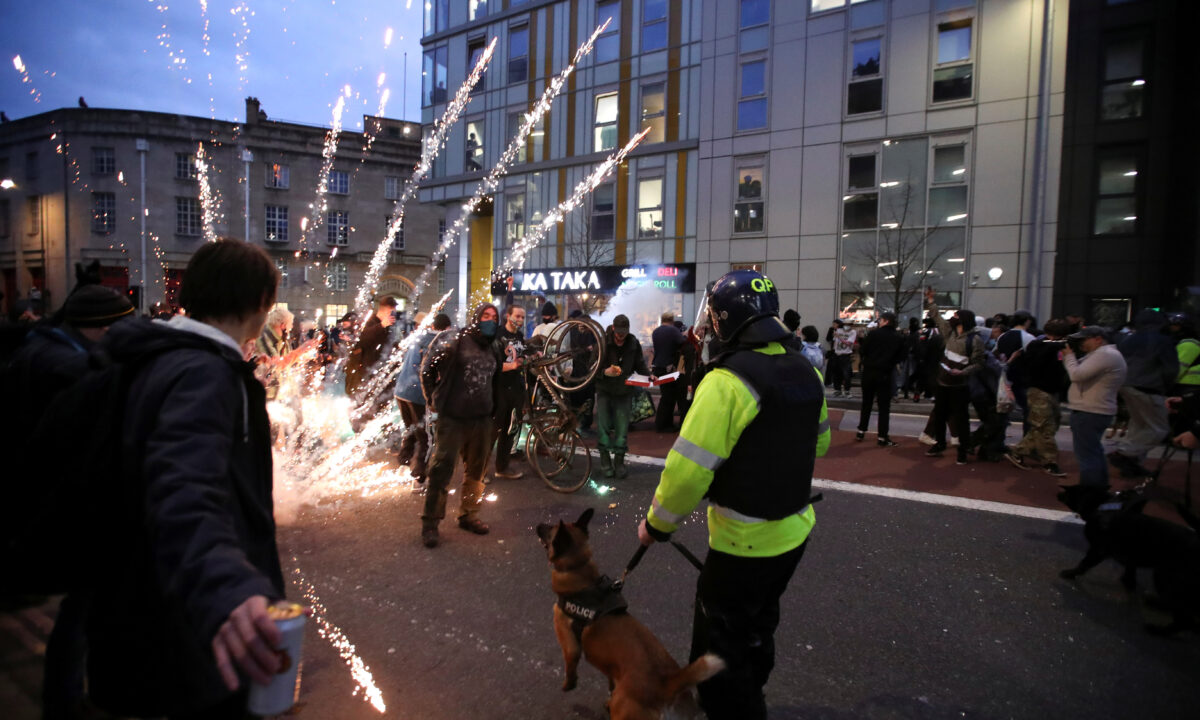 Home Secretary Priti Patel said on Twitter that the scenes in Bristol were unacceptable.
"Thuggery and disorder by a minority will never be tolerated," she wrote. "Our police officers put themselves in harm's way to protect us all. My thoughts this evening are with those police officers injured."
John Apter, chair of the Police Federation of England and Wales (PFEW), said "a hardcore minority" was hijacking the protest.
"This is not about protecting the right to protest, it's violent criminality from a hardcore minority who will hijack any situation for their own aims," Apter wrote on Twitter.
"My colleagues, some of whom are now in hospital, face the brunt of that hatred. Thoughts remain with my colleagues," he added.
New Policing Bill
Protests are currently illegal in England under CCP (Chinese Communist Party) virus restrictions. The protest on Sunday afternoon—which Apter told Good Morning Britain was "an unlawful gathering, but it seemed to be peaceful"—was against the government's Police, Crime, Sentencing and Courts bill.
Some demonstrators carried placards with slogans such as "Kill the Bill," "The Day Democracy Became Dictatorship," and "We Can't Be Silenced That Easy."
The bill, which covers a wide range of policy areas, would give police new powers to impose time and noise limits on street protests. It was introduced after several disruptive Black Lives Matter protests and Extinction Rebellion protests caused road closures, disruption of newspaper printing, and vandalism of statues last year.
On March 13, two days before the second reading of the bill, police clashed with mourners and protesters at a vigil held for Sarah Everard, while enforcing CCP virus restrictions.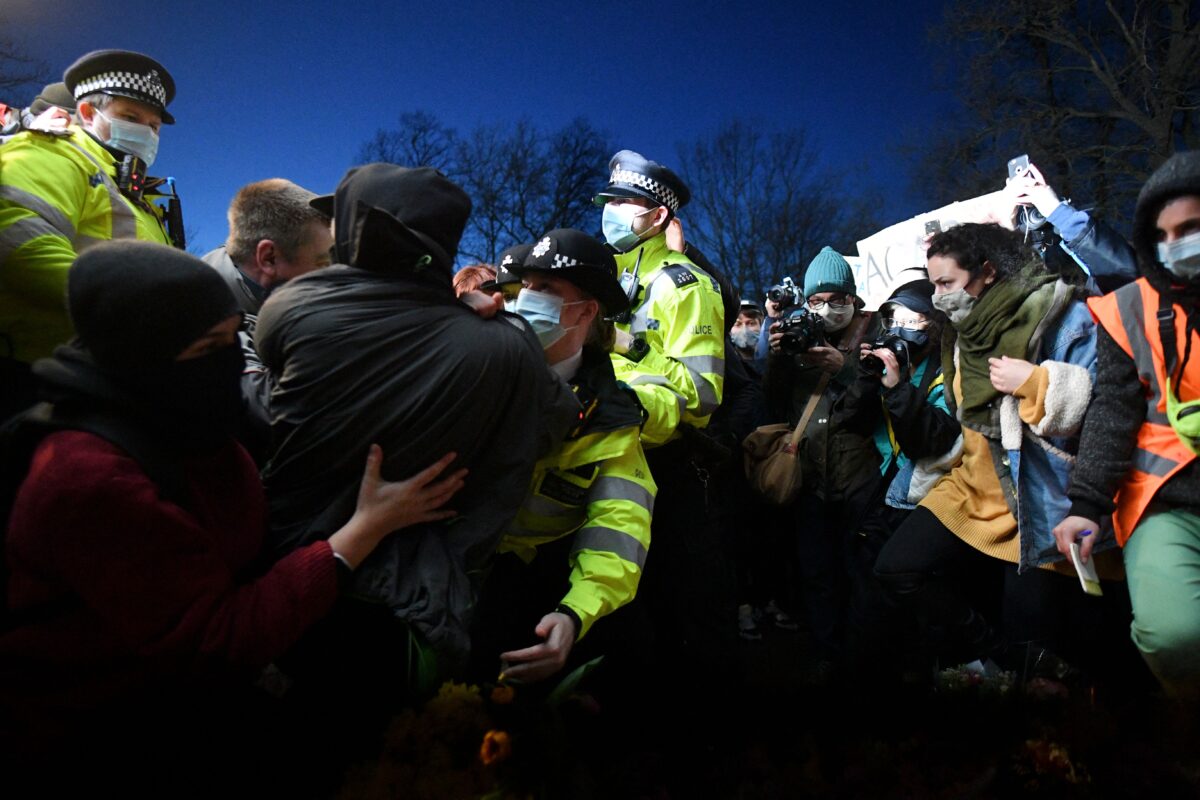 A serving police officer was charged with Everard's kidnap and murder.
The clash sparked days of protests against the police, government's restriction measures, and the new bill.
Reuters contributed to this report.