The British government has publicly accused Russia of being responsible for hoax calls targeting British ministers.
Defense Minister Ben Wallace and Interior Minister Priti Patel said last week that they were targeted by a phone call from a scammer, and Downing Street revealed that attempts to contact Culture Minister Nadin Dollies also failed.
An official spokesman for Prime Minister Boris Johnson said on Monday:
"This is the standard practice of Russian information operations, and disinformation is a direct tactic from the Kremlin's playbook that seeks to distract from the illegal acts in Ukraine and the human rights abuses that are taking place there."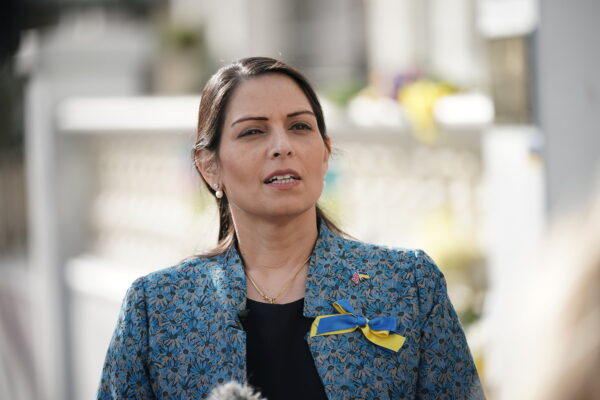 Downing Street said the hoax video call was an attempt by President Vladimir Putin's administration to divert attention from military issues in Ukraine.
Russia's advance in Kyiv remains stagnant in the face of decisive Ukrainian resistance, with most of Moscow's troops still more than 15 miles away from the center, according to the latest assessment by the Department of Defense (MoD). I am.
"We see a series of distraction stories and a complete lie from the Kremlin, reflecting Putin's despair trying to hide the scale of the conflict and Russia's failure on the battlefield," said a spokesman. I did.
An alert was probably issued with the Prime Minister of Ukraine after Mr. Wallace became suspicious during a 10-minute video call on Microsoft Teams on March 17.
He ordered an investigation into a security breach, but questions remain about the security of the government's communications network after Patel said the same thing happened to her earlier in the week.
Defense Minister James Heapy said on March 18, the Minister of Defense was "very crossed" because it should not have been allowed to happen.
But Hepee knew that the targeted ministers wouldn't discuss sensitive security issues with systems such as teams that Russians could easily listen to, so Britain's national security was hoaxed. He expressed his conviction that he was not hurt by the call.
Also on Monday, MoD summoned Russian military attachés in the United Kingdom to dress down potential war crimes in Ukraine.
"Russian military attachés have been summoned to the Ministry of Defense for the second time in connection with the provocative invasion of Ukraine and the actions of Russian troops," MoD said.
MoD's second Vice-Minister under Secretary Lawrence Lee "protested in the strongest conditions against the sustained and unjustified acts of violence committed by Russian troops against innocent civilians."
Prime Minister Lee warned that Britain would "collect evidence of war crimes" and reiterated Britain's request for Russia to "immediately withdraw its troops."
PA Media contributed to this report.