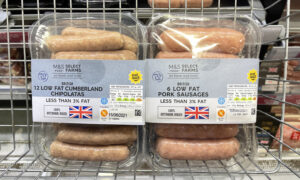 An agreement has been reached to avoid a "sausage war" with the European Union over the transportation of chilled meat from Britain to Northern Ireland.
The grace period to allow continued supply of chilled meat throughout the Irish Sea has been extended to September 30.
Sir David Frost, Minister of Brexit, said: [on] A wise extension of chilled meat moving from the UK to Northern Ireland. It does not require regulations in other parts of the UK in line with future changes in EU agricultural food regulations.
"This is a positive first step, but we still have to agree. [on] Northern Ireland, a permanent solution, is an integral part of the UK and its consumers should be able to enjoy products purchased from the UK for years. "
The potential ban on chilled meat is one of the consequences of Brexit's controversial Northern Ireland Protocol, which has created a series of economic barriers to trade in the Irish Sea.
The Protocol aims to avoid harsh borders with Ireland by effectively maintaining Northern Ireland in the EU's commodity market.
Shipping of chilled meat from third countries to the single market is prohibited. This is ultimately a ban targeting other parts of the UK unless a permanent solution is found.
Frost has repeatedly complained about the implementation of the Protocol, which he negotiated and is part of the Brexit Agreement signed by Prime Minister Boris Johnson.
"This is a very clear sign that the protocol must be operated in a practical and proportional way," he said.
"The refrigerated meat problem is just one of so many problems with the current way the protocol operates. Find a solution to ensure that the EU protects its original purpose, Belfast. Must (Good Friday) Agreement to protect Northern Ireland's position in the UK and protect the EU's single commodity market.
"We aim to work vigorously with the EU to do so."
To ensure the extension, the UK has agreed to maintain the existing rules on meat products.
UK products are sold only in supermarkets, with an official certificate and a label indicating that they are only sold in the UK. That is, you cannot enter the Irish and EU single markets.
Under this agreement, the UK will strive to introduce product-level labeling "as soon as possible".
David Hughes and Emma Bowden