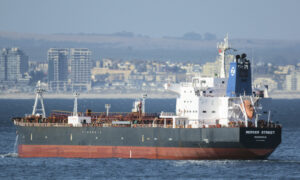 London — The recent attacks on oil tankers in the Arabian Sea have heightened tensions, and Britain and Iran warned each other's diplomats on Monday.
Britain began the day by summoning Iranian ambassador Mosenba Harvand to the Foreign, Commonwealth Office in response to a drone strike on MV Mercer Street on Thursday, which killed British citizens and Romanians.
In a statement by the Ministry of Foreign Affairs, Minister James Cleverly, who oversees the Middle East issue, said, "Iran must immediately stop actions that threaten international peace and security and allow vessels to navigate freely in accordance with international law. I emphasized that. "
Iran has denied involvement, but the United States, Britain and Israel have blamed Iran for deadly attacks.
Britain's Foreign Minister Dominic Raab called this an "illegal and ruthless attack" and said Britain and its allies were planning a coordinated response.
Iran's Foreign Ministry summoned Tehran's Chargé d'Affaires to the United Kingdom on Monday to protest Raab's comments. The ministry said Iran rejected and strongly condemned these "disgusting, contradictory and unfounded statements."
The ministry said Iran would protect itself with a timely, appropriate and decisive response to any "adventurous action."
The ministry added that this is not the first time Britain has accused Iran of failing to provide evidence.
The attack on Mercer Street is known as the first deadly strike on commercial transport in the region after years of tension over the tattered nuclear deal between Western nations and Iran.
By Danica Kirka and Amir Vahdat