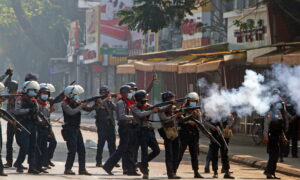 The British government announced sanctions on the Burmese (also known as Myanmar) business conglomerate related to the military regime on Thursday.
The Myanmar Economic Authority (MEC) has been sanctioned for "involvement in serious human rights abuses by funding the military and relationships with senior military personnel," the British government said. statement..
Today, I announced new sanctions for the interests of Myanmar's military operations. Also, @United Nations An independent investigative mechanism collects evidence that seeks clarification from the person responsible for human rights abuses. https://t.co/qLW632N0Je

— Dominic Raab (@DominicRaab) April 1, 2021
Under the global human rights sanctions system, the bill prohibits the availability of funds and other resources to subsidiaries owned or controlled by MEC.
According to the British Government, MEC's ​​board of directors is primarily composed of military or veterans.
Burma has been shaken by protests since the military overthrew Aung San Suu Kyi's elected government on February 1. A group of activists from the Assistance Association for Political Prisoners (AAPP).
"Two months after the start of the coup, [Burmese] The military sank to new lows by killing innocent people, including children, "said British Foreign Minister Dominic Raab.
"The latest UK action targets one of the military's main funding streams and imposes additional costs on them for human rights abuses."
Raab also announced additional funding to support Myanmar's Independent Investigation Mechanism (IIMM).
The UK will donate £ 500,000 ($ 691,000) to a mechanism to strengthen its efforts to gather evidence of serious human rights abuses in Burma. It may be used in criminal proceedings in the future.
Britain had already imposed asset freezes and travel bans on senior members of Burmese military junta because of their role in "serious human rights abuses" during the coup.
Also on Thursday, British fashion retailer Next said it had canceled new production orders in Burma due to post-coup human rights conditions.
"We haven't placed any more orders at this time. This is a big step," CEO Simon Wolfson told Reuters.
"Most of the inventory we procured from Myanmar … other countries already have alternatives to that inventory."
Reuters contributed to this report.