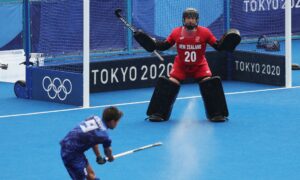 Playing against your brother in the Tokyo-Olympic hockey tournament is not something New Zealand goalkeeper Leon Hayward had ever expected.
But on Wednesday, 31-year-old Leon faced 28-year-old brother Jeremy, who played as an Australian defender in a match against Kiwi at the Tokyo Olympics' unattended stadium.
"The scale of the event is huge," Leon said after the match with his brother standing next to him.
"Jeremy and I have been competitive since we were young. It doesn't matter if it's cricket or football, and this is exactly how it happened."
The conflict between the brothers can occur after Leon "moves across the ditch," or in Jeremy's words, what he can do because the pair's mother was born in New Zealand. Leon made his international debut in New Zealand in 2019.
Jeremy said while growing up, Leon's harsh affection helped his brother reach his goals, after Cooka Brass won the night game 4-2 against New Zealand.
"Growing up, he taught me toughness, that's for sure. He hit me pretty much. He taught me how to be tough, and we each other I love him, and I thank him for it, "Jeremy said.
"He was always a little stronger than me and I always had a goal to reach. Brother, I always respect him."
There were no signs of a brother's rival during the match, except Jeremy used a penalty corner to shoot a powerful shot at Leon's goal and make fun of his brother.
With a stunning save, Leon gloved it at the post.
"I think Jeremy has scored about four points against me so far this year, so it's good to finally get a save," he said.
Daniel Roythink