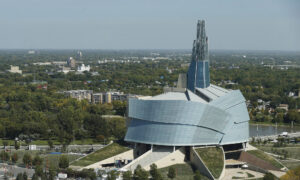 Pro-Palestinian activists are urging the Canadian Museum for Human Rights to set up an exhibition highlighting the plight of Arab Palestinian refugees. Mainstream Jewish organizations, on the other hand, see this attempt as a public political score and publicity.
This controversy is what the Palestinians call "Nakuba" (Arabic for catastrophe), about 700,000 during the 1948 war between Israel and the five neighboring Arab nations. It surrounds the Arab-Palestinian evacuation.
Winnipeg's federal-funded CMHR includes exhibits on a variety of modern slaughter, including the Holocaust, Holodomor in Ukraine, the Armenian genocide, the Rwandan genocide, and the Slebrenica genocide in Bosnia.
A parent Palestinian group has been lobbying for Nakuba's exhibition at CMHR since 2011, according to a March article by Candice Bodonark in the Washington Report of the Middle East.
Also in March, a fact sheet by the Canadian (CJPME) advocate for justice and peace in the Middle East addresses the question, "Why are Palestinian Canadians dissatisfied with the museum?" Was sent.
"Palestinian Canadians are disappointed that CMHR has virtually no information about Palestinians and refuses to admit Nakuba," he said. "Since CMHR first opened, there has been little mention of Palestine."
Divergent view
At the zoom presentation on March 30th hosted by CJPME, the title was "Where is CMHR's Palestine?" Speakers have revealed a new interest in lobbying for this cause.
In the past, Winnipeg-based Palestinian and Canadian activist Lana Abdullah said, "I felt that I was malicious about the (museum) trustee and had no real interest in Palestine."
But, "Now we are very optimistic and we have a new management team … [the museum's new president and CEO Isha Khan] We are trying to open the door to the Palestinian story to make sure the museum is very comprehensive. "
The webinar also featured Bodnaruk, a reflection of that sentiment.
"From our discussion, we understand that Palestinian stories are truly being considered for inclusion in museums, both in digital and physical form," Abdullah added. She suspects that it may contain presentations and discussions on "war crimes, including illegal settlements, right of return, and apartheid."
Abdullah calls the Arab-Palestinian refugee issue "ethnic cleansing" and wants to make it "part of the museum's permanent genocide exhibition."
However, Israeli writer and historian Benny Morris states that "ethnic cleansing did not take place in Israel" during the 1948 Arab-Israeli War. Regarding the refugee situation, Morris wrote in the Israeli treatise Haaretz: [Israel], Palestinians and Arab Countries — The Palestinians who started the conflict have great responsibility. "
Asked if Nakuba's exhibition is underway, CMHR Media Relations Manager Maureen Fitzenry told The Epoch Times: "
"We are looking forward to the ongoing dialogue between Palestinian and Canadian representatives," she said. "We seek new and better ways to educate the general public and share human rights stories, including those about the Middle East, through programs, online content and exhibitions."
"Incomplete depiction of conflict"
Some of Canada's major Jewish advocacy groups have contributed to their disapproval.
Simon Koffler Vogel, president and chief executive officer of the Israeli Jewish Affairs Center, said his organization "anti-Israeli activists strongly armed the Canadian Museum for Human Rights to create highly politicized and toxic things. We are wary of attempts to try. " Exhibition of "Nakuba". "
"There is no doubt that Palestinians are suffering as a result of the Arab-Israeli conflict, but while hosting an exhibition that ignores the shadows of the anti-Semitic massacre that led to the current plight of Palestinians. He denies pain as well, "he said. The expulsion of more than 850,000 Jews from Arab and Islamic countries is an incomplete depiction of the conflict and a tragedy of history. "
"We are particularly concerned about attempts to equate the killing of 6 million Jews on the Holocaust with Nakuba," said Michael Mostyn, CEO of the Jewish human rights group B'nai Brith Canada.
Andria Spindel, Secretary-General of the Canadian Anti-Semitic Education Foundation, wrote an open letter to Khan pleading that CMHR "will not accept lies and distortions." [from those]It preaches anti-Semitism, denies historical facts, and pursues the destruction of legitimate democracies. "
Steven Greenwood, Secretary-General of StandWithUs Canada, said his Israeli advocacy group was "deeply concerned that CMHR is being pressured to promote harmful and unilateral anti-Israeli claims under the guise of human rights." Said.
Since 1947, there have been more than 15 major refugee crises involving more than 1 million people, but none are on permanent display in museums and there are no 6.6 million Syrian refugees in the last decade.