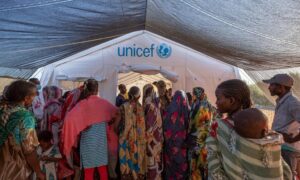 Ottawa — Canada and other G7 countries have accused them of describing them as human rights abuses and are seeking immediate access to humanitarian groups in the conflict-stricken Tigray region of Ethiopia.
Foreign Minister Marc Garneau and his counterparts in France, Germany, Italy, Japan, the United Kingdom and the United States said in a joint statement that they were very concerned that people were hungry as conditions in the northernmost part of Ethiopia deteriorated. It states that it is.
They blame reports of mass civilian killings, sexual and gender-based violence, and the displacement of thousands of locals and Eritrean refugees living there.
"It is imperative that an independent, transparent and impartial investigation of reported crimes be conducted," including asking the person responsible for human rights abuses to explain.
Ethiopia declared war in November in a battle between Prime Minister Abiy Ahmed's national ruling party and the Tigray People's Liberation Front, which ruled the semi-autonomous province.
War crimes, slaughter, and rape accusations expanded the conflict rapidly, but many were difficult to identify due to restricted access to the area by aid workers and journalists.
"We condemn the killing of civilians, sexual and gender-based violence, indiscriminate shooting, and the displacement of Tigray and Eritrean refugee residents," the G7 Foreign Minister said in a joint statement.
"All parties must exercise maximum restraint, ensure the protection of civilians, and respect human rights and international law."