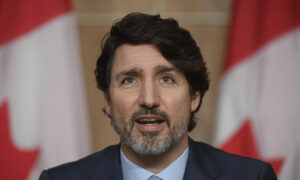 Prime Minister Justin Trudeau Said Hospitalizations in Canada are skyrocketing, intensive care unit beds are filling up, and COVID-19 variants are spreading.
"Around the world, countries are facing a very serious third wave of this pandemic," Trudeau said at a press conference on Tuesday. "And now, so is Canada."
The prime minister reiterated the need to continue public health measures, including staying at home as much as possible to "flatten the epidemic."
Theresa Tam, Chief Public Health Officer, said that infection with COVID-19, a disease caused by the CCP (Chinese Communist Party) virus, is not limited to any particular age group.
"We are seeing a young adult with COVID-19 being treated in a hospital," she said. "This reminds us that COVID-19 can affect people of all ages and that serious illnesses can occur at any age."
She said a variant of concern contributed to the resurrection.
"The B117 variant is known to cause more serious illness and increase the risk of death," she said. "Of the more than 15,000 variants of concern reported so far across Canada, the B117 variant continues to account for more than 90% and may have replaced the original virus in some places. There is. "
"A significant increase in the number of cases of P1 mutations is also a cause of concern," she added.
She said the P1 variant surged from 460 a week ago to 857 today, most of which were reported by British Columbia and Ontario.
Trudeau said he would talk to Prime Minister Doug Ford about Ontario's surge in COVID-19 cases and vaccination plans late Tuesday, followed by all state and territorial prime ministers talking about efforts to contain spreads on Wednesday.