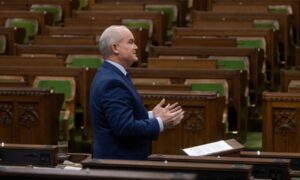 Winnipeg — Conservative leader Erin O'Toole says Canada needs to work closely with its allies to offset China's actions, recognizing that it could pose a risk to Canada's exports. ..
O'Toole was talking to the Winnipeg business community at a virtual event hosted by the Winnipeg Chamber of Commerce.
Opposition leaders were asked about his position on Canada-China relations and his message to those working in the agricultural industry who depend on trade with the country.
O'Toole says Canada needs to diversify into new markets such as the Indo-Pacific as Canada may have more problems with China in the coming years.
He reiterated that Canada's values ​​were not for sale and would not ignore the treatment of Muslim Uighurs in China's Xinjiang Uighur Autonomous Region to maintain export access.
O'Toole also pointed out China's recent sanctions on parliamentarians investigating human rights issues, including Conservative Michael Chong.
"As a kind of Five Eyes Alliance, we must be aware that some of the CCP's misconduct could be offset and some disruption could occur in exports to that country," O'Toole said. Said on Monday.
"I think we are ready to survive the storm to do the right thing."