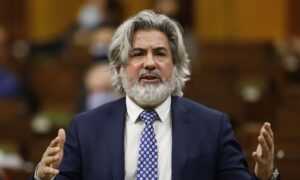 The Canadian Heritage Department said in a Monday inquiry it would change its review process for contractors after it had to cancel a contract with an organization accused of anti-Semitism. It was under the jurisdiction of the Species Discrimination Initiative.
Investigations show that other government departments have given multiple contracts to the same organization, and the Heritage Department has had to call third-party collection agencies to recoup funds already paid for the contracts. I didn't.
stronger scrutiny
Our enhanced vetting approach now includes not only a Google search of the organization applying for an agreement as before, but also of its members.
The canceled contract under investigation was with the Community Media Advocacy Center (CMAC). His consultant, a senior CMAC named Laith Marouf, made a number of comments that Anthony Housefather, a Liberal MP, called "racist" during the investigation.
Housefather said the top theme of Marouf's Twitter feed was "Have a motto. Life is too short to wear shoes with laces or entertain Jewish white supremacists with nothing but a bullet to the head." I can't."
Another Marouf tweet called Jews "bags of human feces."
Canadian Heritage's deputy undersecretary, Mara Khanna, represented the ministry in the inquiry. She said, "Mr. Malouf's hateful comments were shocking and deeply disturbing for us."
She said the broader scope of investigating contract applicants includes looking at the social media accounts of the applicant organization's staff. is also required.
Immediate termination
The ministry will also be able to terminate the contract immediately. Khanna agreed with many of his MPs who said it took too long to terminate his contract with CMAC after Marouf's comments came to light.
Khanna testified that the ministry became aware of the potential problem on July 26, 2022. The ministry conducted an investigation and suspended the project on August 19. She said the ministry should notify CMAC at least 30 days before she terminates the project. It finally ended on September 23rd.
Conservative MP Melissa Lanzmann said: "Even with a long list of clearly anti-Semitic, anti-French and anti-black tweets, I would still honor the 30th. I find it shocking. increase."
CMAC did not respond to inquiries from The Epoch Times at the time of publication. Its website describes it as "a non-profit organization concerned with the future of community and indigenous media." It describes its values ​​as "decolonization, anti-oppression and empowerment".
The department had already paid CMAC $133,000 before terminating the contract. Some of the money had already been spent, so the ministry only instructed CMAC that he would repay $122,000. it's not.
The ministry tried in December to get the money back through a third-party collection agency, but to no avail. Khanna said the ministry was considering legal action.
Better scrutiny by other departments
Conservative MP Marilyn Gradu asked Khanna. She said, "Did you know that Rais Maloof's company, CMAC, has won multiple contracts worth over $500,000 since her 2015?"
Gradu said Mark Miller, Canada's Royal Minister of Indigenous Affairs, also awarded the grant to CMAC. [Marouf] They were making vulgar comments about indigenous people," Gradu said. "So, in all departments, it looks like whatever we were doing wasn't deterring action. This is a pattern of behavior… you can see he was banned from re-entering Canada in 2009."
Khanna said various departments share best practices on reviewing and awarding contracts, and the heritage ministry's improved processes are likely to lead to better reviews across other departments. .