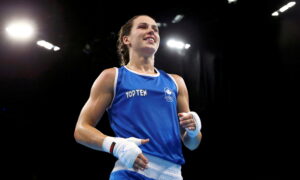 Canadian boxer Mandy Bujold said her dream of participating in the Tokyo Olympics was "undamaged" after the Court of Arbitration for Sport (CAS) ruled that pregnant or childbirth women need to meet eligibility criteria on Wednesday. ".
After the qualifying event was canceled by the COVID-19 pandemic, the International Olympic Committee (IOC) decided on a boxing berth in Tokyo using the results of three tournaments over the 11 months from 2018 to 2019. I decided to do it.
However, Bujold, who won the Pan Am competition twice, was one of the top flyweights in the world before maternity leave, but was pregnant and postpartum during the adjustment period, so he did not have qualification points.
Mr. Boujold, 33, fought against CAS, the Supreme Court of Sport, because the IOC did not respond to a letter sent by the IOC to sue another woman's case that may be in a similar situation to her case. He said he decided to challenge.
"I'm excited to say I won my court battle. The court ruled that the eligibility criteria should include accommodation for pregnant or postnatal women during the qualification period. "Bujold said in a statement.
Boujold made his Olympic debut in the 2016 Rio Games, advanced to the quarterfinals, and was defeated after spending the night in the hospital with illness.
Eleven-time national champion Bujold said the court battle was mentally exhausting, but he continued training because he had to prepare if the results were successful.