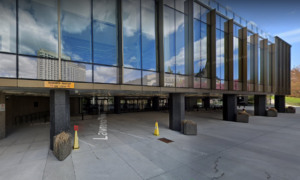 A Canadian government-funded theater organization came under fire after announcing that it would host an event that would be open only to a "black-identifying audience."
Ottawa's National Center for the Arts (NAC) announced a "Black Out Night" event on its official website on January 16th.
According to the theater, "Alecia Harris' award-winning presentation God is Taking place February 9-18 at the 897-seat Babs Asper Theater, it is one of "Black History Month's series of milestone offerings."
According to theater officials, the show features depictions of violence, death, and murder, as well as references to domestic violence, family and generational abuse, suicide, and more. website.
The production will be the first of two "Blackout" nights in theaters this year, according to the website.
However, the move sparked a backlash online, including from columnist Brian Lilly. I have written in the toronto sun on January 26th government investment Theaters should "present plays that reflect the diversity of Canada."
"What is disturbing is the obvious separatist appeal," he wrote. It sounds as if this event is for black patrons only.
Event Sparks Race Row
Elsewhere, the Ontario Chapter of the Foundation Against Racism and Intolerance said: statement"We strongly oppose the taxpayer-funded National Center for the Arts to reinvigorate racial segregation in theaters through the opening of Blackout performances.
"We at the National Arts Center can honor Viola Desmond's legacy and make it clear that all human beings are welcome in the theater at every performance."
Canadian civil rights and women's rights activist Desmond challenged racism in 1946 by refusing to leave the whites-only section of a movie theater in New Glasgow, Nova Scotia.
But others, including journalist Kevin Bourne, showed their support for the events of the night in "Blackout." I have written in a Canadian magazine shifter The event aims to "represent black creators and provide the necessary infrastructure."
"The language surrounding the NAC event could have been better, but the underlying theme is representation and community and representation issues," Bourne wrote.
"Attempting to carve out a space dedicated to racialized communities is often referred to as 'racist' by some, and ties to this utopian cumbaya idea that all people get along. It's counterproductive (even among people, despite the fact that many still don't like black people)," Bourne said.
NAC describes itself as "the home of Canada's bilingual and interdisciplinary performing arts". Said It was inspired to host two "Blackout" events after Broadway hosted a similar event for Jeremy O'Harris in 2019. slave play.
"There are no racist shows at the NAC"
"Blackout is an open invitation for Black audiences to come and experience performances with the community," the website says. "The night provides a dedicated space for Black audiences to witness shows that reflect a vivid kaleidoscope of the Black experience."
"Creating an evening dedicated to Black audiences creates a sense of conversation and participation throughout the theater, opening the door for Black-identifying audiences to experience the energy of NAC with a shared sense of belonging and passion. will be killed."
However, in a statement to John Kay, editor of the online magazine, KilletNAC communications officials said the center does not conduct race checks on participants.
of statementKay shared on Twitter, stating, "There are no racially segregated shows at the NAC." God is, dedicated one performance on Friday, February 17, to people who identify as black and their guests. "
"No one will be turned away at the door. There will be no checkpoints for Black Out Nights ticket holders and no questions about their identity, race or gender," the center said.
Canadian lawTates Discriminatory practices based on race, national origin, ethnic origin, color, religion, age, gender, sexual orientation, gender identity or expression, marital status, family status, genetic characteristics, etc. are unlawful.
The Epoch Times has reached out to the National Center for the Arts for comment.