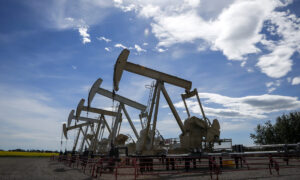 A new poll suggests that Canadians are largely unaware of the Trudeau government's "just transition" plan.
post-media leger poll 84% of those surveyed say they don't understand what "just transition" means.
A "just transition" memo prepared last year for Natural Resources Minister Jonathan Wilkinson said more than 2.7 million workers would face "significant" job disruptions due to federal climate change programs. increase.
The documents said the buildings and transportation sectors would be most affected, suggesting that some workers should be recycled as "janitors or drivers" for "solar energy companies."
Wilkinson said he plans to introduce a "just transition" bill this year.
Opinion polls show 60% of Canadians say the country should not make dramatic changes to its economy because other large polluting nations are not making significant efforts to reduce emissions. thinking about.
The Just Transition plan is well known to Albertans, with 32% saying they have heard of it.
State Premier Daniel Smith has been vocal about his disapproval of Ottawa, and in a letter sent to Prime Minister Justin Trudeau on January 25, he called for the term to be abolished altogether.
"Drop the 'just transition' phrasing immediately," she wrote.
Smith met with Prime Minister Justin Trudeau in Ottawa on February 7 and publicly stated that Alberta's energy sector would not be "phased out."
The term is lesser known in other provinces, with 19% in BC, 15% in Saskatchewan and Manitoba, 15% in Ontario, and 10% in Quebec.
Despite Newfoundland and Labrador being oil-producing countries, Primorye was least aware of it at 7%.
Labor Minister Seamus Oregan, who represents Newfoundland horseback riding, defended According to Blacklock's Reporter, while testifying before the Senate on February 9, he said he couldn't stand the words "just transition" about a carbon tax.
"I don't like the word 'just transition' because workers hate it and my voters don't like it," he said.
Of Canadians surveyed who have heard the term, 53% believe it is related to helping workers find alternative jobs as a result of climate change policies, and 48% 40% believe it will have a negative impact. oil and gas sector.
Andrew Endes, Executive Vice President, Central Canada, Léger Said The Liberal government has "a lot of work to do" to communicate its planned "just transition" and convince Canadians that it will work.