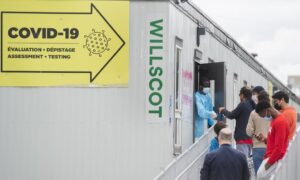 Quebec — According to the Quebec Health and Welfare Commissioner, a disorganized, poorly rated health care system for the elderly contributes to the high death toll from the state's COVID-19.
Joanne Castonguay released a preliminary report on the status of the health and social services network for the elderly on Thursday the eve of the pandemic.
During the first months of the health crisis, between March and August 2020, more than 5,157 elderly Quebecs died, accounting for 90% of all COVID-19 deaths in the state at the time.
"This is probably one of the worst crises that modern Quebec has ever known, but if not the most serious of all," she said in a report.
A combination of several factors has created an unprecedented crisis for older people in state-wide care and other housing, she said. She said that care providers could not make the right decisions in a timely manner due to lack of comprehensive strategies for providing uniform quality care, disorganized services and inadequate data collection. Stated.
In August, Castongeye, ordered by the government to investigate the state's COVID-19 response, spoke with about 100 health care workers who experienced the situation first hand. "Management of the first wave of pandemics seriously undermines the dignity and integrity of older people and leads to deterioration of their physical and mental health," she said in an interview. ..
Castonguay said no public agency was tasked with compiling the results of assessments conducted at long-term care facilities, and the government did not assess the care given to older people in private homes with state contracts. Added.
She said it was difficult to hold responsibility for the behavior of healthcare providers during a pandemic as a result of poor evaluation.
She said network issues were well known under some governments, with many reports of shortcomings, but few. She said the COVID-19 crisis exacerbated existing problems and the responsibility for the blunder should be "collective."
"Long-term care and service governance has received little attention in the major government concerns of all time," she said. "We are also observing that no mechanism is provided to ensure the state's ability to fund long-term care and long-term services."
The Commissioner wants to understand why Quebec was unable to better protect vulnerable older people during the heyday of the pandemic and will provide solutions to prevent recurrence.
The final report of Castonguay is scheduled for the end of December.
Health Minister Christian Dubé said in a statement Thursday that several factors raised in the report were addressed during the last two waves of COVID-19.
By Jocelyne Richer