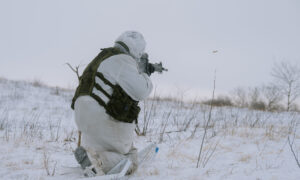 On February 13, the Canadian military justice system dropped charges against a member of the Canadian Armed Forces (CAF) accused of negligence that killed a fellow soldier during a 2020 live-fire exercise.
Cpl. Lars Coulsen, member of 3rd Princess Patricia's Canadian Light Infantry Battalion (PPCLI) was scheduled to be court-martialed in Edmonton on March 6.
Callsen was found guilty in May 2021 of being punished under Section 127 of the Defense Act for "negligent failure to do anything in connection with a potentially life-threatening matter, the omission of which resulted in loss of life." had been indicted.
"However, after further deliberation, the Canadian Military Prosecutor's Office has determined that the charges against Corporal Coulsen should not be pursued," a Department of Defense (DND) spokesperson told the Epoch Times.
DND did not say whether it would take other administrative action against Callsen, but said that if it did, it would be protected information that it could not disclose under privacy laws.
Callsen has been charged in connection with the October 2020 death of 29-year-old Cpl.James Choi, reservist of the Royal Westminster Regiment, British Columbia
At the time, Choi was participating in Exercise Spartan Rescue as part of PPCLI's fall training program at Canadian Forces Base Wainwright, Alberta.
Reserve Force members in western Canada were increasing the effectiveness of regular army units.
DND said Choi was shot during a live-fire training exercise that included a trench clearing exercise in dark areas.
The reservist was taken to a hospital in Wainwright and then flown to Edmonton, where he died the next day, The Canadian Press reported.
The training was overseen by unit leaders and security staff, but no one was charged in connection with the incident, according to the DND. Safety is the responsibility of the officer in charge.
The ministry also indicated that the policy requires the use of specific personal protective equipment during live fire when fragmentation ammunition is being used.
This includes at least a helmet, hearing protection, bulletproof glasses and a crushing vest. DND did not say whether any of these protections were lacking on the day of the incident.
According to DND, Callsen has been a regular army member since 2013 and continues to serve as a PPCLI rifleman.