Empty containers pile up in ports and factories go bankrupt as foreign trade orders fall
The China Container Freight Index (CCFI) reportedly continued its decline in January after sharp declines over the past four months. Business headwinds or even bankruptcy due to declining orders.
February 13th, container port release The CCFI for January showed a steep 11.2% year-on-year decline in the Composite Index. Among them, the European route index fell by 16.7%, while the US West and US East routes fell by 7.8% and 9.8% respectively. .
this is 5 times in a row Since the CCFI plummeted across all routes last September, it has declined month-on-month and has remained unchanged in subsequent months (October 2022) Composite Freight Index fell 24.8% y/y, the biggest drop in five months.
The CCFI is a complex index of ocean freight rates from China's container ports to 12 shipping routes around the world, broadly reflecting China's export situation.
Piles of idle containers
Announced by the Ministry of Transport of China port data January shows that cargo throughput growth at Chinese ports fell 1.9% year-on-year in December last year.
But the reality is even worse than the official numbers, with many Chinese ports already piling up empty containers.
Last December saw a dramatic increase in the number of empty containers at Nansha port in the south of Guangzhou city. Rosesurpassed 90% of dock stockpiles, a record since March 2020, in the early stages of the COVID-19 outbreak in China.
Then, in early January, empty containers were stacked six to seven stories high at Yantian Port in southern Shenzhen. according to According to a Jan. 4 report from state media China National Shipping.
The main setbacks in foreign trade today are reflected in weaker external demand and lower orders compared to last year's supply chain disruptions and contract failures. "This is an important change" Said Li Xingqian, Director General of the Foreign Trade Bureau of the Ministry of Commerce, at a press conference held by the State Council on February 2.
Outlook export
according to Against the US Bureau of Labor Statistics' (BLS) manufacturing Purchasing Managers' Index (PMI) for January, the new export orders index rebounded to 46.1, slightly above last December's 44.2.
But that's lower than last November's 46.7, said economist Li Songyun, who has long worried about the Chinese economy. is in a period of contraction."
Regarding China's export trends, Li told the Epoch Times on February 17, And the decline is getting worse. "
A recent report by the Economic Research Institute of the Chinese Academy of Social Sciences forecasts negative growth in China's exports this year. report Official Media The Paper on February 4th.
Li noted that last December, China's exports fell 9.9% year-on-year in dollar terms, and he believes the decline in exports will continue this year.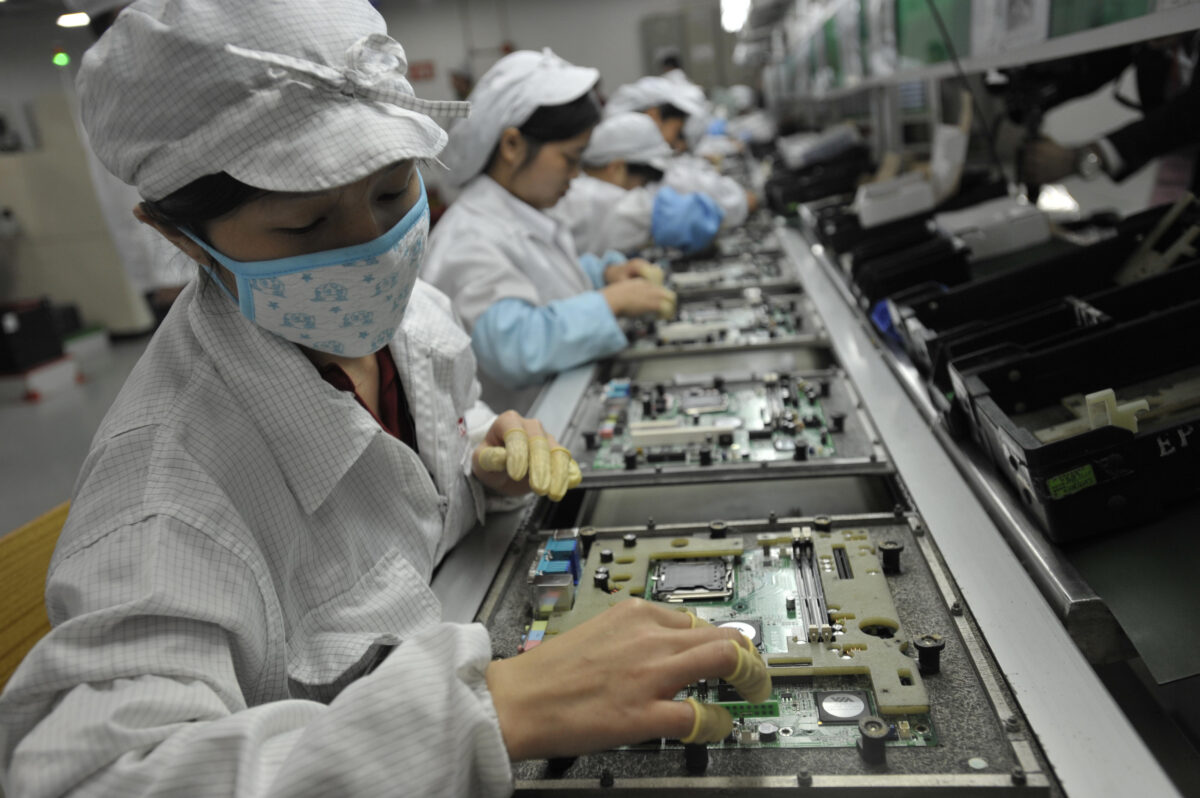 Manufacturing line out-migration
According to Li, China is losing its status as the world's factory, which is one of the factors leading to the slump in exports, as well as a fact that the Chinese Communist Party (CCP) tends to avoid mentioning.
Over the past year or two, manufacturing supply chains have moved outbound, and that move is now accelerating, Li said.
The outflow of manufacturing could be attributed to the Chinese Communist Party's stringent epidemic control and power outages that have disrupted industry supply chains, as well as escalating tensions between the US and China and rising geopolitical risks in the Taiwan Strait. .
In Li's view, the most prominent example is the withdrawal of Apple's supply chain, represented by Taiwan's Foxconn, the world's largest iPhone assembler. "In fact, the majority of mainland China export orders are from Taiwanese companies, and their withdrawal will undoubtedly have a significant impact on China's exports."
Order reduction
From 2022 onwards, a significant number of Chinese trading firms are looking to withstand the pressure of a sharp drop in orders.
Located on the southeastern coast of Fujian province, Quanzhou is one of China's top 100 foreign trade cities. The local equipment manufacturers association will hold a mobilization conference in August 2022 with the aim of "getting overseas orders", and will organize a delegation to attend the overseas orders exhibition in September and November last year and January this year. said he did.
China's official financial media Yicai report Sectors such as fitness equipment, outdoor products and masks in Quanzhou, Xiamen and Zhangzhou in Fujian announced on January 27 that they had suffered heavy losses in the first half of 2022 due to a spate of delayed shipments and abandoned orders. . It caused excessive raw material input imbalance and inventory backlog.
Corporate bankruptcy
The continued decline in Chinese exports could become a major hurdle to survival for many privately owned foreign trade companies.
For example, Zhaofeng Knitting Garment Co., Ltd. is one of the victims. After more than 20 years of foreign trade business, it recently went bankrupt. On February 8, a video of workers demanding wages from outside the company went viral online, depicting the dire situation in the export trade that led to the bankruptcy of a Chinese company.
Zhaofeng Knitting Garment, one of the famous woolen enterprises with scale and strength in South China, Established 2002 in Dalan Town, Dongguan, a coastal city famous for its wool products.