As the novel coronavirus epidemic has swept China unchecked for weeks, the Chinese Communist Party government has no plans to control a new wave of outbreaks. In the meantime, it stopped counting nationwide infections or sharing data with the World Health Organization. .
China's ruling party, the Communist Party (CCP), suddenly lifted restrictions on "no new coronavirus", and the strict policies it has implemented for three years have caused countless tragedies and great harm to the Chinese people. , reports of widespread infection quickly flooded social and international media. .
No plan, no preparation
But with the administration's sudden change of course without a plan, there was no transition time for the health system to prepare, but the vast majority of patients in this new wave of infections were suffering from high fever, cough, and lung infections. It shows much more serious symptoms. Than the mild symptoms usually associated with Omicron variants. Hospitals are currently facing shortages of ICU beds, ventilators, drug stockpiles, and other medical tools. Funeral homes are overwhelmed. The streets of Chinese cities are empty despite the lifting of lockdown orders. Some cities have said workers with mild symptoms can still go to work because most people are infected.
The Chinese government has failed to communicate its "zero coronavirus" exit strategy to the public, causing confusion and panic. China's healthcare infrastructure has been strained as a result of the over-focused "clearance" of the virus and cases over the past three years.
The administration has spent vast amounts of money on quarantine and testing facilities rather than increasing hospital and clinic capacity and training medical staff.
not notify the public in advance
People have not been pre-instructed to prepare for home treatment for COVID and are rushing to local pharmacies for fever and cold medicine.
Chinese pharmacies have banned or banned the sale of cold and flu medicines under a "zero COVID" policy for the past three years to prevent residents from using over-the-counter medicines to bring down fevers and avoid detecting illness. ordered to administer. I didn't want to be forced to take a PCR test or sent to a centralized quarantine facility. Many pharmaceutical companies and pharmacies that manufacture and sell medicines have gone bankrupt because of regulation. The remaining factories were not notified in advance to prepare for production in the face of a sharp increase in demand after restrictions were lifted.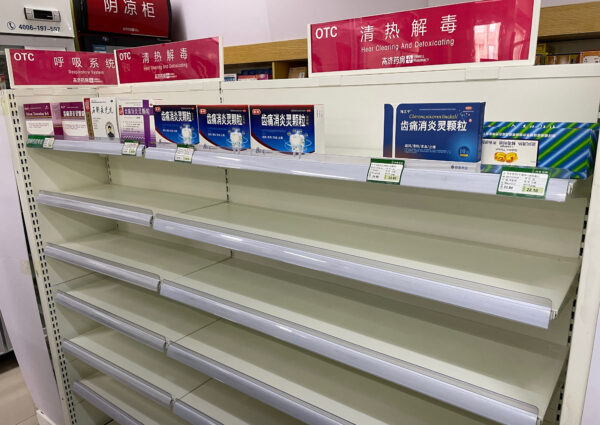 As a result, residents were unable to stock up on basic medicines at home before the administration lifted its zero-COVID policy, but a wave of infections had already begun before this change. Because of this, many people are currently unable to find medicine.
Meanwhile, the US Embassy in China has issued a notice to prepare in advance for possible scenarios.
In a statement posted on the official U.S. Embassy website and Chinese social media Weibo account on November 28, the United States warned Americans in China: And food for yourself and your family. "
Some mainland Chinese followed the instructions and then left messages on Weibo at the U.S. Embassy in China to thank them for their reminders to survive the wave of infections.
One of them wrote, "Fortunately, we prepared antipyretics and other supplies according to the precautions issued on November 28."
Infectious disease surges out of control since November
Infections had already surged in November before the administration lifted restrictions, according to WHO experts. He said it was not the cause of the explosion, but a response to the spread of the virus already spiraling out of control under policy.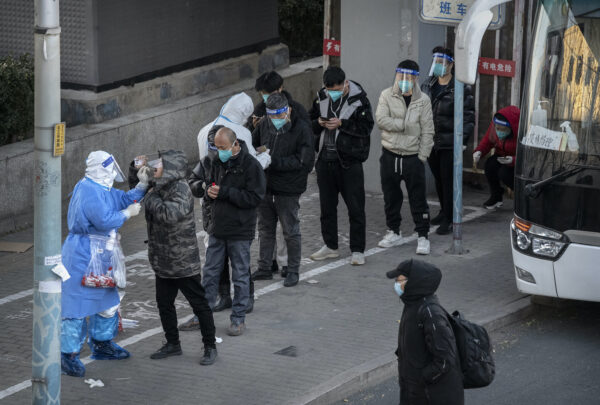 Major cities across China, including Beijing and the southwestern metropolis of Chongqing, had already reported spikes in COVID cases in November and implemented another lockdown in an attempt to bring it under control.
The Chinese Communist Party's top propagandist Fu Shijing also posted on Weibo, revealing that the number of infected people in Beijing has risen rapidly since November, and that society is already out of control. "In summary, it's out of control," he wrote. However, his post was quickly deleted.
give up reporting numbers
China's National Health Commission announced on December 25 that it would no longer publish daily COVID-19 case counts across the country amid a surge in infections.
However, on the same day, Yu Xinle, deputy director of the Zhejiang Provincial Health Commission, announced at a local press conference that the number of COVID-infected cases in Zhejiang exceeded 1 million per day. He also said that when the peak comes, daily cases will reach up to 2 million around the first day of the new year.
Discrepancies in reported data have increased confusion and skepticism about the true status of the outbreak in China.
The administration has halted mass testing since restrictions were lifted on December 7. It also stopped reporting asymptomatic cases after 14 December.
Despite requests from WHO and the US government to share data on new rounds of COVID outbreaks, we have not sent data to WHO for two weeks.
refuse international aid
The Chinese are getting a Chinese-made COVID vaccine that many experts believe is less effective than Western vaccines. However, the Chinese government has banned the sale and use of Western vaccines for political and economic reasons.
As the epidemic scene in China spreads globally, the international community is providing medical assistance to the Chinese people, including the WHO and Western governments.
Last week, a spokesman for the US State Department and Secretary of State Brinken reiterated the US willingness to help China with its vaccine.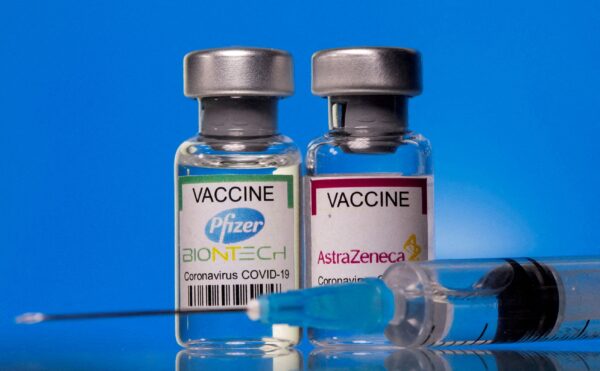 However, Mao Ning, a spokesman for China's foreign ministry, rejected the US offer to help China with a vaccine at a regular press conference on December 21.
On December 20, German President Frank-Walter Steinmeier said in a telephone call with Chinese Communist Party President Xi Jinping that Germany could soon provide China with hundreds of millions of BioNTech vaccines, but the offer was Rejected by President Xi. The administration has allowed only limited German vaccines to be shipped to China for use by the 20,000 German expatriates in China.
Meanwhile, the Chinese government is trying to downplay the severity of this wave of infections. Its chief virologist, Zhong Nanshan, said in an online speech on December 16 that the virus subspecies causing the outbreak in China was still Omicron, with a fatality rate of about 0.1%, compared to the regular seasonal flu. The COVID outbreak should simply be called the "COVID cold" because it is roughly equivalent to
Australian historian Li Yuanhua told The Epoch Times that the current Chinese Communist Party's policy reversal from "no new coronavirus" to "group infection" was due to government inaction and completely Said it was chaotic.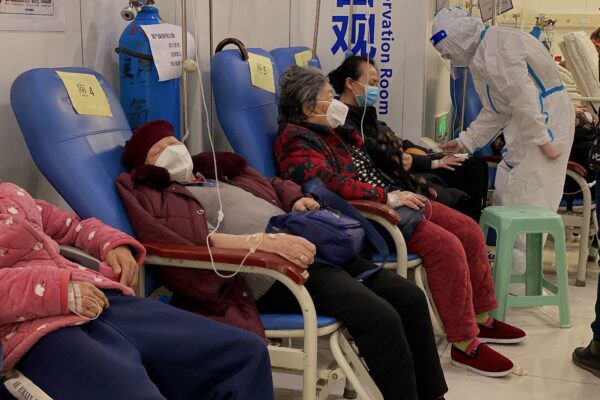 "The CCP's policy change is entirely for its political goals. can go back to work [after the lockdown]This situation will lead to the death of many elderly people. "
Luo Ya contributed to this report.