China's financial regulator last week unveiled an unprecedented 16-point plan to help the country's struggling property market.
The People's Bank of China and the China Banking and Insurance Regulatory Commission jointly issued a plan in a memo for financial institutions to help real estate companies.
The policy is seen as the strongest support so far for the struggling sector, including expanding funding channels for real estate companies.
The measure states that "guaranteed housing" must be funded by policy banks, and various loan extensions are allowed.
Starting Nov. 11, development loans and trust loans coming due within the next six months were allowed to be extended for an additional year, the policy said.
The new policy also provides guidance on debt financing. To redeem the bonds, the real estate company may negotiate with the bondholders to make reasonable extensions, exchanges and other arrangements to affirmatively settle the risks.
"three red lines"
In recent years, China's property market has all but collapsed under the influence of Chinese Communist Party (CCP) leader Xi Jinping's "three red lines" policy.
Xi released regulatory guidelines in August 2020 to limit the ratio of debt to cash, equity and assets in an attempt to curb the highly indebted real estate development sector.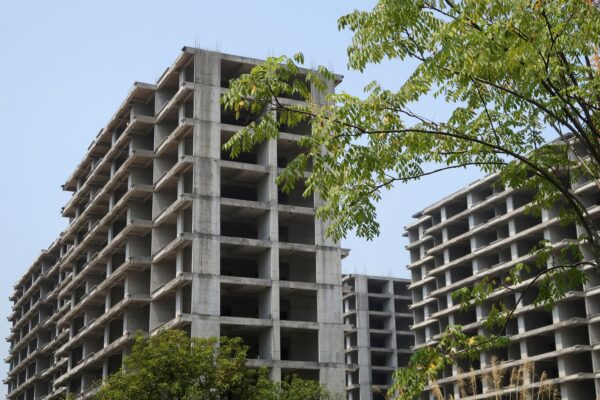 Real estate companies such as Evergrande continue to experience liquidity crises that spill over into other sectors.
In addition to the large number of unfinished buildings (known as 'rotten tail' buildings) and the disruption of mortgage supply, the crisis in the real estate sector has pushed rural areas that rely on land sales as their main source of revenue. It directly affects municipal finances.
Real estate accounts for more than 25% of China's GDP, so a crisis would also put pressure on the banking system. The government's "no new coronavirus" policy is also putting more pressure on the Chinese economy.
The 16 measures have eased two of Xi Jinping's three "red lines" for banks.
It also introduced a rare "exemption clause" that "is exempt if the newly issued matching finance is not well formed and due due diligence is exercised by relevant institutions and parties."
Not inferior to huge debt
However, according to public data, China's real estate industry expects at least $292 billion in domestic and foreign borrowing to mature by the end of 2023, including $53.7 billion this year and $72.3 billion in the first quarter of next year. It has been.Chinese analysts believe newly announced bailout measures may fail to ease China's property crisis
Home prices fell the most in eight years in September, according to the latest official data.
Citigroup estimates that the proportion of real estate-related banks' non-performing loans has surged to 30%. China's financial regulator has issued a notice to help "the stable and healthy development of the property market" to avoid a crisis in the property sector. To save a battered economy devastated by the "Zero COVID" policy.
Despite drastic relief measures, China's $2.4 trillion new housing market remains fragile, with property debt defaults surging. according to to media coverage.
'Grand' rescue won't save China's economy
Qin Pen, a US-based current affairs commentator, said in his Nov. 15 column for The Epoch Times that the drastic policy was a "grand" real estate bailout.
Chinese authorities can only save the Chinese economy by saving the property sector, he said, as the property-related industry accounts for more than 25% of China's GDP. And property taxes cannot directly replace industrial taxes or government land sales revenues if the sector is not doing well.
"But this also created a 'policy' dilemma," Hata said. "Too much bailout effort will return to the real estate economy and high debt model of the past, increasing economic risk. I can not do it."
"I personally have doubts about the effectiveness of the market bailout by the Chinese government. For people who own multiple properties in China, now is a good time to sell them," he said. .
On the outlook for China's economy, outgoing premier Li Keqiang has already led an "interim cabinet" after the Communist Party Congress, saying all he can do is stabilize the overall situation and avoid major economic problems. rice field. .
So between now and next March's top-level meeting of the Chinese Communist Party, the Chinese economy may not see much improvement, he said.