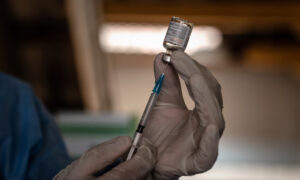 On March 23, Alexander Tah-ray Yui, head of the Department of Latin American and Caribbean Affairs of the Republic of China's Ministry of Foreign Affairs, revealed that China's vaccine makers would not sell their shots to Paraguay unless it agreed to sever its diplomatic relations with Taiwan, according to the Taipei-based Central News Agency (CNA).
The Paraguayan side condemned the action, saying that Chinese vaccine manufacturers were attempting to hurt its sovereignty; and contended that vaccines should not be reduced to a political tool, CNA reported.
Paraguay is one of the 15 diplomatic allies of Taiwan, according to the Ministry of Foreign Affairs.
Beijing has won over seven former diplomatic allies of Taiwan, including Sao Tome and Principe, Panama, Dominica, Burkina Faso, El Salvador, the Solomon Islands, and Kiribati, since President Tsai Ing-wen took office in 2016.
China's state media Global Times chortled in an editorial on Sept. 20, 2019, that the number of Taiwan's allies would be likely to drop to "zero" in the future.
China's foreign minister Wang Yi claimed at a joint press conference on March 23 that "We—China and Russia—do not concern our own benefits alone; rather, we take global interests into account," based on China's state media reports. He also said China would use its vaccines as a global public good.
Previously, Wang said China never attached any political strings in international cooperation on COVID-19 vaccines at a virtual meeting of the United Nations Security Council regarding vaccine distribution on Feb. 17.
"Vaccine diplomacy" is a term the Chinese government hates to use, according to Yanzhong Huang, a senior fellow for global health at the Council on Foreign Relations.
Huang is also a professor and director of global health studies at Seton Hall University's School of Diplomacy and International Relations.
However, Huang noted a fact that though a large portion of the Chinese have not been inoculated, the Chinese Communist Party has donated their vaccines to at least 24 countries, according to a March 11 article on the site of Foreign Affairs.
China is donating thousands of its vaccines to low- and middle-income countries to expand its global outreach, according to New York-headquartered Quartz, a global business news outlet.
Nonetheless, Chinese vaccine makers have not been transparent in disclosing data of Phase 3 clinical trials, leading to public questions about their products' safety, Huang said.
A case in point is Singapore. The southeast nation introduced a shipment of Chinese-made Sinovac products in February this year and keep them in a storage facility unused.
Regulators are still waiting for more data from Sinovac, the country's Health Science Authority said.