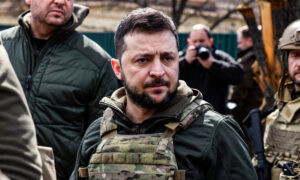 Ukrainian President Volodymyr Zelensky said he wants to meet with Chinese Communist Party leader Xi Jinping and that if China truly believes in the value of sovereignty, he will urge Russia to end the war.
President Zelensky speaks at a press conference to mark the first anniversary of the full-scale invasion of Ukraine Said A meeting with Xi Jinping would be beneficial to stability and international security.
President Zelensky's comments followed China's February 24 release of a position paper outlining China's desire to become a mediator in the conflict, with the Ukrainian president expressing cautious optimism.
"China started talking about Ukraine, which I think is a good thing," he said.
China broadly called the document a "peace plan", but argued that it did not present a solution to war and that the United Nations should lift all sanctions against Russia.
Zelensky said the whole world would likely disagree with some parts of the document, and warned that the territorial integrity defended by the position paper would require Russia to leave Ukraine altogether.
"There are some things I disagree with, and I don't think the whole world agrees," Zelensky said of the document.
"But in practice the question arises as to what follows these words. I guess."
To that end, Zelensky said that if China really believed what Russia wrote, it would have to force Russia to withdraw from Ukraine.
"What they are saying looks like respect for territorial integrity," Zelensky said. "I didn't mention the country, our territorial integrity violated. "
"Territorial integrity means the withdrawal of Russian troops. If it is not there, it means no problems for us."
Similarly, Zelensky commented on US concerns that China's communist regime could provide lethal aid to Russian forces, and urged China not to enter the war on the side of the aggressor.
"I would like to believe that China supports the idea of ​​peace and fairness," Zelensky said.
"I really want to believe that China is not going to supply weapons to Russia.