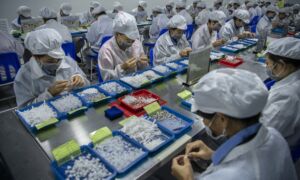 China's labor market is undergoing structural changes due to a shrinking labor force and rising labor costs. Young people are reluctant to enter factories, and the international labor market is shifting to Southeast Asia and elsewhere. Some analysts have expressed concern that China's position as a "factory of the world" could end within a year.
According to the 7th census released by Chinese authorities, China's major labor force is declining. People between the ages of 15 and 59, who make up 63% of the total population, have decreased by 7 points from 10 years ago. An additional 18% of the total population, people over the age of 60, increased by 5 percentage points from 10 years ago.
Ren Zeping, chief economist at Soochow Securities, said the census shows that China's population is aging at an unprecedented rate and scale, accelerating the baby boomer generation born between 1962 and 1976. He said it indicates that he has left the market. China's economy has enjoyed a lot of additional demographics in the past. However, the same age group (60 years old and over) will retire in the near future.
According to a report on migrant worker monitoring and investigation released by the administration's Statistics Bureau in 2020, China's 2020 migrant workers will be 286 million, 5 million less than the previous year. Among them, migrant workers in the manufacturing industry accounted for 27%. ..
From 2008 to 2018, the number of migrant workers in China's manufacturing industry declined at an average annual rate of 2.8%, according to statistical data.
Over the next five years, Mr. Len said China will not only face the problems of an aging population, a declining number of children in each household, and young people who will not marry, but will also have a negative population growth. This is one of the greatest dangers affecting China's economic and social development.
The sharp decline in the workforce directly challenges China's position as a global factory.
Rising labor costs
A decrease in the labor force directly leads to changes in market supply and demand. Wage increases for blue-collar employees are also inevitable. In addition, the Chinese Communist Party has printed more banknotes in recent years, causing severe inflation. Living expenses such as clothing, food, housing, and transportation are becoming more and more expensive, so labor costs are naturally increasing.
Manufacturing migrant workers earned an average of $ 637 a month in 2020, up $ 21.50 (3.5%) year-on-year, the fastest growing sector, according to data released by the National Bureau of Statistics of China on April 30. It has become. In 2006, the average monthly salary of migrant workers manufacturing or doing business in the city was $ 150. Monthly salary has quadrupled in 15 years, and labor costs in the manufacturing industry have also risen.
Shanghai-based business executive Wang Kim Qiu told The Epoch Times that high labor costs are a big expense for Chinese entrepreneurs. Employers also need to provide workers with basic insurance and pensions. This accounts for about one-third of wages. For example, for a worker with a monthly income of $ 777, the employer has to pay about $ 200 for various fees in addition to the worker's own contribution to the social security system, and the employer's employment cost is very high. It will be higher.
Young people reluctant to enter the factory
Another reality affecting China's labor market is that today's young people are reluctant to work in factories.
Most young people today are only children in their families. Many are highly educated and have little desire to work as blue-collar workers. Even rural people are willing to work long hours, minimal safety, and in poor conditions, away from their homes and parents.
Chinese media Caijing also reported that manufacturing has lost its appeal to young people. More young people prefer to work in the hometowns of emerging service industries that offer both flexibility and fast income, such as food delivery, taxi driving, express delivery, and live broadcasts.
Caijing said in a report that 170 million migrant workers left home in 2020, five million less than the previous year. Large manufacturing ministries such as Zhejiang, Jiangsu and Guangdong, which once had a large influx of foreign workers, are now facing "difficulty in hiring" and "labor shortages".
Dong Shen is the owner of Guangzhou Lenny Labor Dispatch Company. He told Kaijin that in 2006 companies were able to "find the number they needed" through his labor dispatch service, but since 2019 it has become more difficult to find workers. Last year, we hired more than 200 people a day, but by the end of April this year, we had reduced to about 70 people.
To hire skilled workers, Guangzhou employers were willing to wait for the workers to choose them and put up signs side by side on the street. This was considered by these business owners to be an unusually humble gesture, the Chinese media reported.
International labor market shifting to Southeast Asia, etc.
Over the past few years, foreign companies have left China and relocated their factories to Southeast Asian countries. For example, Panasonic will close its battery plant in Shanghai and transfer some work to its Central American plant for the North American market. Sony has relocated its smartphone factory from Beijing to Thailand. Apple has relocated eight foundries from China to India. Samsung has closed its factory in China, which manufactures phones, computers and televisions, and moved to Vietnam. Previously, Nike, Adidas, Uniqlo, MUJI, and other international brands have relocated their factories to Cambodia, Vietnam, Indonesia, Bangladesh, and elsewhere.
According to Caijing, the chairman of a company in Zhejiang went to Uzbekistan in 2019 to investigate the country's investment climate in manufacturing. He found that investing in Uzbekistan would offer preferential policies on land, factories, taxes and other aspects. Each local employee earns about $ 155 a month, "they are very talented and can work overtime every day."
In economics, the elimination of the country's surplus labor force and the sharp rise in wages is called the "Lewis Turning Point." Many foreign companies have discovered the "Lewis Turning Point" in China and are rapidly relocating their manufacturing facilities.
Daiwa Securities Co. Ltd. of Japan predicts that China will lose its position as a global factory by 2022 at the latest.
US-based financial, business, and economics researcher Chang Jin-Lun said the deteriorating economic environment and the mass outflow of manufacturing plants could lead to unemployed troops and put pressure on labor costs, but the labor force. He told the Epoch Times that it would lead to a reduction in the workforce. An aging society also puts pressure on the economy and creates a vicious circle.