After being arrested for experiencing a lot of anxiety and psychological torture, bypassing China's Great Firewall using a VPN, 24-year-old Chen Yu-jin (a pseudonym) was finally able to escape China. In an interview with The Epoch Times, he opened his heart and shared a horrifying experience.
In the early morning of June 10, 2020, Chen, who had a good night's sleep, suddenly woke up with a violent knock on the door. Some plainclothes policemen broke into his small shared rental apartment and began checking all his electronics. In a blink of an eye everything turned over.
Chen never thought that such a disaster would hit him.
"I asked my department, but I was refused an answer. They kept looking everywhere, looking for electronics, cell phones, etc. They asked us if we had a relationship with foreign powers. Asked if he was part of an organization he didn't have. "
Later, Chen learned that all this had happened because he used a VPN (Virtual Private Network) to bypass China's Great Firewall, and posted some comments online about the current affairs.
In the interrogation room of the Haikou Municipal Public Security Bureau in Hainan Province, police examined all of Chen's communication history, but found nothing. They found only his record of using a VPN on his cell phone.
Bypassing the firewall was not listed as a crime in the Chinese Communist Party (CCP) criminal law, so Chen was accused of "providing a tool to break into computer programs."
"I looked up the definition of this crime because many people have been charged with this crime," Chen explained.
Chen told some friends how to secretly bypass the Great Firewall. He didn't know that using a VPN would cause problems. He thought China was in an era of reform and openness, so he didn't expect it to be so terrible. Otherwise he would have been more cautious.
"But when that happened to me, it turned out to be very dangerous," he said.
Police initially wanted to detain him. However, due to the fatigue of the overnight interrogation, the hot climate, and the mental tension, when police tried to check him in to the detention center, Mr. Chen showed a higher than normal body temperature, so the detention center sent him. Refused to be taken.
Therefore, the Haikou Municipal Public Security Bureau had to release him on bail and demanded that he pay a deposit of $ 1,563.
Police then issued a "decision on the trial on bail" to Mr. Chen, "the suspect could be sentenced to more than a fixed term imprisonment, and the trial on bail would not pose a social risk." Said.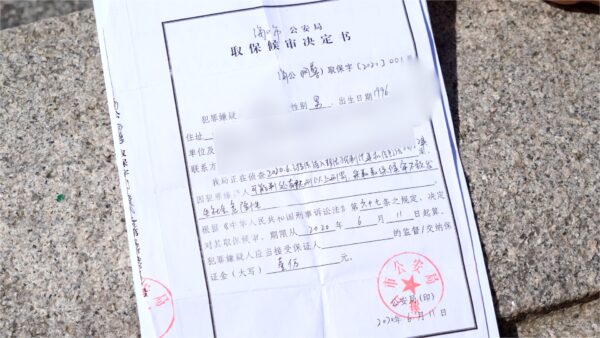 "I was told that it would be resolved within a month. At that time, I was wondering if I would be arrested or if I would suspend the proceedings," Chen said. "I thought I'd get results within a month. I was so anxious that I couldn't sleep well every day."
But things didn't go as Chen expected. After a few months, police officers still asked him to go to the police station for further interrogation.
Looking forward to the outcome of the incident, Chen received an admission letter to study in Korea.
On December 31, 2020, he boarded a plane to South Korea.
After studying abroad in Taiwan as an exchange student in 2016, Chen said he had become accustomed to slipping through the Great Firewall. I saw a different world there. He was inspired and had many opportunities to think.
"When I was in Taiwan, I told people that they wouldn't attack me if I told them a lot of good things and bad things about China. They respected different opinions," Chen said. It was.
After returning from Taiwan, Mr. Chen became a supporter of freedom and democracy, and although he was "little pink," it refers to a young man who was brainwashed to believe and support the Chinese Communist Party.
Since then, Chen has frequently posted current affairs comments on China's social media platform WeChat and China's Q & A website Zhihu, where questions are created, answered, edited and organized by the user community. Did.
However, both his WeChat and Zhihu accounts were deleted because they "just commented in an objective way."
In South Korea, Chen has opened a YouTube channel called "".Chen's YouTube channelShare his analysis and comments on international affairs.
In May, three of his bank cards were frozen the next day after he criticized WeChat's group of friends forcing the download of China's National Fraud Prevention Center app.
According to Mr. Chen, he was arrested in mainland China just by slipping through a firewall, but the efforts of the Chinese Communist Party are in vain.
"Many people are bypassing firewalls. If you want to arrest them, you can't arrest everyone. In fact, you don't have to control it. Some celebrities and government officials also have firewalls. We're bypassing, and some media have opened YouTube channels as well. "
Mr Chen said he received some messages of encouragement and abusive comments from users in mainland China after revealing his horrifying experience in China. Chen will stick to being himself and at the same time respect everyone's opinions, he said.
An 18-minute video about how Mr. Chen changed his view after studying in Taiwan and being arrested in China has received more than 109,000 views since it was released on May 13. doing.
Vanessa Wang contributed to this article.