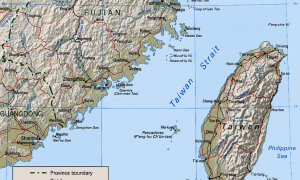 A Chinese man smuggled into Taiwan without being found in a military-grade rubber dinghy. The military and police learned about the incident after the public reported it.
Taiwan's defense minister, Chiu Kuochen, confirmed on May 3 that the Navy and maritime patrols had expired. Some Taiwanese have expressed concern about whether the case is more than just a smuggling case.
A 33-year-old Chinese man named Zhou said he left Fujian, China, at 10 am on April 30 and came to Taiwan for freedom. His military-grade rubber dinghy was purchased from China's online shopping site Taobao and fitted with a motor. In total, it cost him 16,000 yuan (about $ 2,500). He bought 90 liters (almost 24 gallons) of fuel for his trip.
According to Chinese media reports, he crossed the Taiwan Strait undetected by both the Republic of China Navy and the Taiwan Navy, maritime patrols, and coastal patrols. After arriving at Taichung Port for two hours, he saw the workers passing by and asked for help. The workers bought him food and provided him with clothes. After learning that Zhou had sailed the Taiwan Strait from the mainland, he called the police.
It is about 100 nautical miles from Shishi, Fujian to Taichung Port. Inflatable rafts can move at speeds of 10 knots or more and take about 10 hours to arrive. According to local fishermen, the weather has been so nice these past few days that sailing has become easier.
But politicians and military experts believe that there may be more to Zhou's simple smuggling story.
An online video shows Taiwanese police asking Zhou on Taichung Port and his inflatable raft.
Taiwanese Democratic Progressive Party lawmaker Wang Tingyu questioned the case at a legislative meeting on May 3, asking if the rubber dinghy really came directly from Fujian. Hu Muyuan, Deputy Director of the National Security Bureau, said the Maritime Patrol Department and the Taichung Port Police Corps are under investigation and various possibilities are being considered. Maj. Gen. Chen Chen Kuo of the Taiwan Navy Command said the Maritime Patrol Agency radar could detect this type of inflatable raft, but the Navy's land radar could not.
In an interview before the legislative assembly, Taiwan's defense minister, Chiu Kuochen, said the case did reveal some loopholes in the Navy and maritime patrols. The military said it would strengthen communication with the maritime patrols, investigate what loopholes the incident would reveal, and gradually improve.
Lu Lishi, a former Taiwan Navy School instructor, commented on Facebook that military-grade inflatable rafts can definitely cross the strait, but must sail at the right time and in the right sea conditions. Did. He asked how Zhou learned the ocean conditions from a simple weather forecast and how he was able to navigate the vast ocean.
Mr. Lou can successfully cross the strait without one person being detected in one boat, but "100 people and 100 boats" or "1000 people and 1000 boats" sneak into Taiwan as well. He added that it does not mean that he can. How to do it.