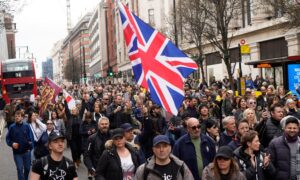 News Analysis
A damning report by the UK parliament's Public Accounts Committee on the Johnson government's "Test and Trace" flagship scheme, which was introduced after the first lockdown for combating the further spread of the COVID virus, has just been published.
Committee chair, Meg Hillier MP, said: "Despite the unimaginable resources thrown at this project [$51bn], Test and Trace cannot point to a measurable difference to the progress of the pandemic, and the promise on which this huge expense was justified—avoiding another lockdown—has been broken, twice."
This amount equals the entire budget of the UK Department of Transport and is just under the punitive $54bn figure demanded by the EU for Britain's post-Brexit trade deal. However, that was to be paid over three years rather than the one year of "Test and Trace."
And this program accounts for just part of the total COVID bill alongside lost productivity, increased health care costs, paying people not to work, and reduced taxation.
To pay for the three lockdowns, the Office for Budget Responsibility (OBR) claims the extra borrowing of $492bn for the current financial year could need a further $325bn next year, which would take the COVID bill to $817bn over two years.
In comparison, WWII cost far less. According to the UK National Archives, "In 1939 the British held half the foreign investments in the world. By the time the war concluded the British were in debt."
Its national debt by 1945 was $29bn, which is around $1.3 trillion at today's rates. That puts six years of fighting WWII at the equivalent of $218bn per year and two years of fighting COVID at $408bn per year, meaning Churchill needed around half the amount per year that the Johnson government is spending on COVID.
Lives Lost
The COVID cost in human lives lost has been excessively high too. As of 3/18/21 Britain had 125,831 COVID-related deaths, whereas Taiwan, which lies 110 miles off the Chinese mainland and didn't choose lockdown, has had just 10 COVID deaths. Taking population differences into account, Taiwan's success would be the equivalent of 28 COVID deaths in the UK and 139 COVID deaths in the United States.
Taiwan is a remarkable success story. However, Sweden, which chose herd immunity and eschewed lockdowns, has suffered far fewer deaths—1,304 deaths per million of population compared to Britain's 1,847.
Throughout this period the UK government's policy has largely been driven by advice it gets from its Scientific Advisory Group for Emergencies (SAGE). But this arrangement is also now under scrutiny.
The Telegraph has recently questioned the influence SAGE, which was formed under the last Labour government, has over Prime Minister Johnson and his closest ministers. It is headed up by the government's Chief Scientific Adviser, Sir Patrick Vallance, and Professor Chris Whitty, its Chief Medical Officer.
Vallance initially favored "herd immunity" growing naturally within the UK population. He told Sky News that not suppressing the virus completely would "allow enough of us who are going to get mild illness to become immune to this. About 60 percent is the sort of figure you need to get herd immunity."
The following day hundreds of academics published a joint letter stating, "Going for herd immunity at this point does not seem a viable option, as this will put the NHS (National Health Service) at an even stronger level of stress, risking many more lives than necessary."
However, many of the signatories were "drawn from mathematics rather than medicine with very few specialists in infection control and no leading experts in the spread of disease," Sky News reported at the time.
Soon afterwards Vallance became a lockdown advocate.
Another leading member of SAGE is Dr. Neil Ferguson, often disparaged as "The Master of Disaster" after his costly recommendations for previous health crises. Immediately following the emergence of COVID he managed to influence both the UK and U.S. governments into adopting the lockdown model in early 2020.
The epidemiologist was forced to resign from SAGE after breaking his own lockdown rules to allow his mistress to visit him, but he has continued as a government advisor.
It is now recognized that once a nation goes into lockdown a national vaccination program is the only way out. In Ireland, the BBC reports that more than 4,000 "red flag"—life saving—cancer procedures have been cancelled in Northern Ireland since the beginning of the pandemic.
The Irish Taoiseach (prime minister), Micheál Martin, recently informed his confined population that he hoped "to allow for non-COVID healthcare to restart safely." He added, "The vaccination programme will completely change the landscape and transform the options available to us as a society for reopening and renewing our country."
In a statement that was initially withheld, Vallance candidly admitted that lockdowns in the UK would claim their own grim toll, with 200,000 extra deaths due to expected delays to hospital treatment, suicide, and domestic violence.