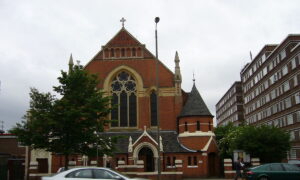 London — The Roman Catholic Church in London said on Saturday that it would complain to police after suspending service on Good Friday for violating the COVID-19 blockade rules that limit the size of the congregation.
Social media footage showed two police officers entering Christ at the King Polish Catholic Church in Balham, southern London, during the worship service.
I heard one say to the congregation: "Unfortunately, this rally is illegal under our current coronavirus regulations. Under the law, we are not allowed to meet so many people internally."
Those who did not follow the instructions to go home could be fined £ 200 ($ 275) or arrested, police said.
The Catholic Archdiocese of Southwark said the intervention took place during a solemn liturgy. It would have taken only 30 minutes to complete. Archbishop John Wilson of Southwark visited to find out what had happened.
"The archbishop discussed the issue with Mgr Stefan Wylezek, the parish minister of the Catholic Polish Mission, who intends to contact the Metropolitan Police Department about how the situation was handled," the archbishop said in a statement.
"Public worship is permitted if the COVID hygiene procedure is in place and national guidance is issued by the Catholic Episcopal Conference of the United Kingdom and Wales."
England's current blockade rules stipulate that "restrictions on joint worship should be determined based on the capacity of the place of worship after risk assessment."
Police said they attended the church after receiving reports of crowds lining up outside, and police found a large number of people inside who were not wearing masks or were socially distant. Said. They decided that it was dangerous to continue the service.
"Understanding the sensitivities of the situation, officers were engaged outside the church with the priest and invited inside to address the congregation," a police statement added, adding that no fines were given.