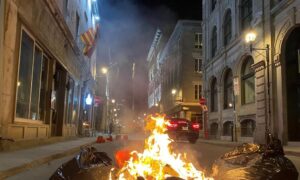 Montreal — Old Montreal business owners assess damage this morning after curfew protests intensify.
Hundreds of people gathered, ignoring the 8 pm curfew that came into effect on Sunday nights in Montreal and Laval.
Most young crowds lit fireworks and danced to the music from the speakers, chanting "freedom for young people."
However, the festive atmosphere quickly deteriorated as several protesters lit a trash fire at Place Jacques Cartier in Montreal.
Police fired tear gas and rushed the crowd, causing dozens of protesters scattered on the cobblestone streets of Montreal's historic tourist district.
Some protesters lit garbage fires at many intersections, seized projectiles from city streets, and threw them into nearby windows to shatter many.
A police spokesman said there were no immediate words about the indictment, but seven people were arrested and 107 tickets were issued for public health breaches.
A spokeswoman said police were still investigating possible cases of mischief, arson, intrusion and intrusion, and police obstruction.