Kamil Bachoch, a 21-year-old philosophy student at Wilfrid Laurier University, showed up to class on November 15 wearing a "mask," or hollowed out grapefruit.
It covered his nose and mouth and complied with the mandatory mask policy introduced in the fall college semester. We are not allowed to discuss or argue" and are just the latest way to peacefully protest against an educational environment that forces "compliance".
Mr Bachouchi told the Epoch Times that he started the protests a few weeks ago. He started by "using a ziplock bag with a cell phone charging cable" around his ear. One day he came to class with a bucket on his head. Another day he wore an upside-down blue mask folded in half.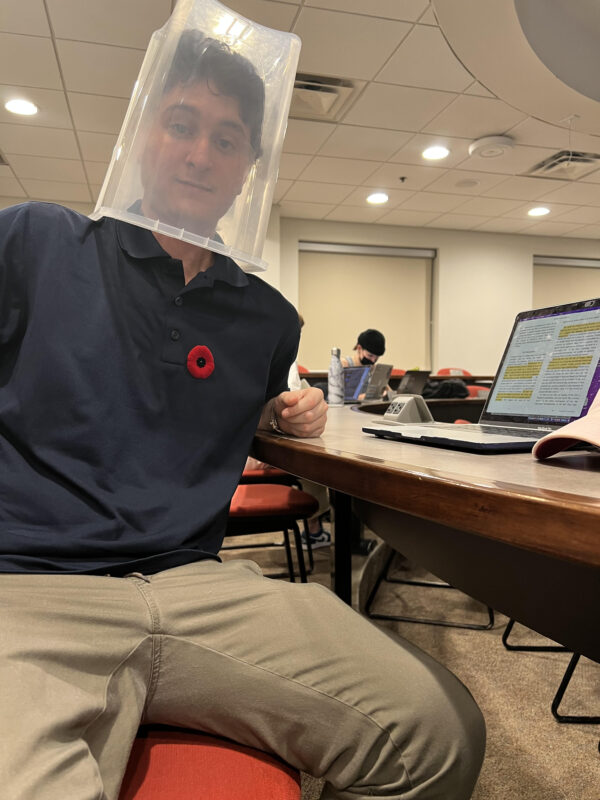 His "Peaceful Revolution" complies with current regulations in a somewhat creative way.
Laurier University said requiring masking is "consistent with its focus on the health, safety and well-being of the university community."
The "mask" of the future is a surprise
Bachouchi post His latest "mask" on his newly created account on Twitter. Since October, his following has grown rapidly to over 4,000 and he plans to continue his protests with new creative masks. A student who identifies as a libertarian said, "I need to keep things in the future that will surprise those who follow and support me, but I'm definitely planning some things."
One of Bachouchi's tweets said, "This is not China. We are Canadians and should not be forced to wear face condoms in a room full of healthy 20-year-olds." I'm here.
"They teach these young people how to be good little soldiers who don't think twice and submit," he added.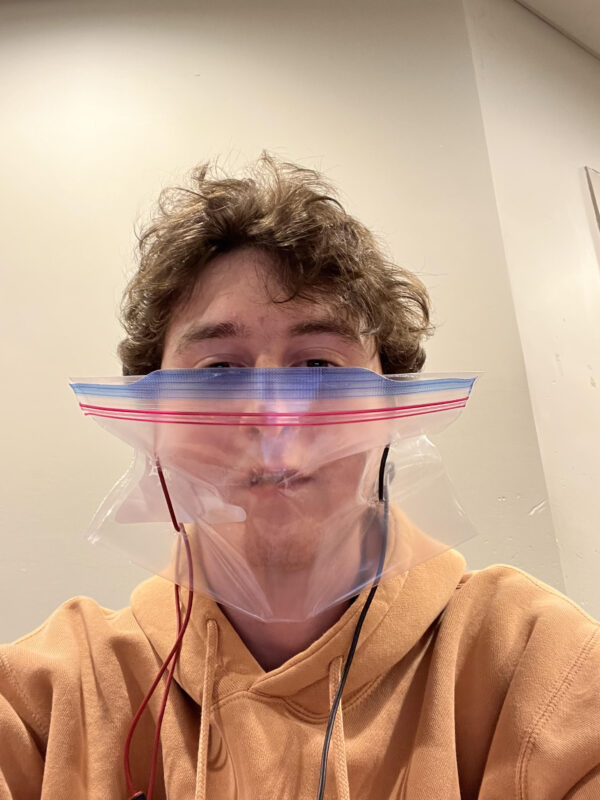 While most Canadian universities have lifted all COVID-19 restrictions, Laurier University is one of the few Ontario universities still enforcing mask policies.
Laurier requires masks for indoor activities that are part of the academic course offering, including lectures, tutorials, seminars, teaching labs, tests, and exams. Wearing a mask is compulsory at , and students who do not comply with mask requirements "may be required to leave class and may face penalties under the non-academic student code of conduct." .
Teachers and professors are not required to wear masks during classes or lectures.
Bachouchi said the mandatory mask policy is not uniformly enforced in all classes.
"Dystopian Command"
"This semester, only one teacher threatened us by physically removing us from class and forced us to wear masks," he said. In some classes other students are still told to wear masks, but the policy is arbitrary. are forcing students to wear these masks," he said.
He added that certain teachers didn't like the mask choice.
Bachouchi is the only student who has publicly protested so far, but he hopes others will join him. Everyone I've spoken to has either said they want the masks off completely or thinks it's a creative way to protest the order," the student said.
and November 10th Tweet, He said, "If the students are to unite, they will have to withdraw their dystopian mission. Anyone who knows Laurier or Waterloo students can take off their masks and claim their charter rights." and unite for freedom."
kicked out of school
Last year, Bachouchi was kicked out of school for refusing to disclose his personal health status under the university's mandatory COVID-19 vaccination policy.
he said: I happened to be the victim of this policy, took what I learned from it and moved on. That's too bad. "
"Just before the semester started this year, they informed students that masks were mandatory," he says.
His goal is to withdraw the mission entirely. "We believe we have reached a point of absurdity that is not backed up by ethical or scientific reasons. There is evidence of a shortage of mask wearers in classes where teachers are unwilling to exercise controversial power," he explains.
He also wants to spread "the libertarian idea that we shouldn't be forced to do things that don't involve harm prevention, such as wearing masks."
non-compliance
His protest is a statement about freedom. "We are taught how to obey and obey rather than think for ourselves, and I believe this sets a dangerous precedent for this country. Most frighteningly, most students and faculty realize that passing power to those who have not earned it or who they do not know can go down a slippery slope. How do I use it?"
The University of Waterloo also re-implemented a mandatory mask policy on November 9, but has faced backlash and violations from students. according to To True North News.
Brent Matheson, a university business lecturer, said: Posted A photo of his whiteboard posted to Twitter on Nov. 9. He thinks at least one student hates Musk's return to the University of Waterloo. ' The message read, 'Mask mandates are a joke.'
Matheson Post to Twitter Nov. 10, "Masks in class. I took the test twice yesterday. Many students don't put them back on. I just don't have the energy to advocate for this policy to students."