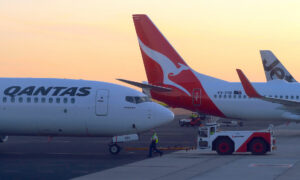 A second return flight from India will land in Darwin, boarding 165 Australians and spending 14 days in quarantine at the Howard Springs facility.
The flight departed New Delhi late Saturday and was the second such government-sponsored flight since the ban on arrivals from India was lifted.
The first was spoiled by the huge number of positive COVID-19 results, filling only 80 of the 150 seats.
The Ministry of Foreign Affairs and Trade prioritizes passengers who have been banned from boarding previous flights because they tested positive for future flights.
All passengers who couldn't board the plane last week were contacted to arrange a return flight, according to a DFAT spokesman.
Eight flights are scheduled by June 4, with New South Wales, Victoria, Western Australia, South Australia, and Queensland volunteering to embark on return Australians.
Vulnerable Australians are prioritized on these flights, according to DFAT.
Of the 11,200 Australians in India registered with the government for wishing to return, about 1,000 are believed to be vulnerable.
Meanwhile, Australia will pass 500,000 COVID-19 vaccinations for the first time in a week as the Morrison government continues to appeal for jabs as soon as it qualifies.
Over the past few weeks, more than 50s have been able to get AstraZeneca jabs, but some may wait for Pfizer's dose, which will reach 20 million in the fourth quarter, by the end of the year.
"We don't want anyone to wait. If you qualify, you don't have to wait for vaccination," Health Minister Greg Hunt told reporters in Melbourne.
"Get out before. If you're not vaccinated and you're infected with COVID, you can die. It's just as easy."
Australia passed the 3.5 million mark with COVID-19 vaccine late last week, but is still embarrassed by the government's first promise of 4 million by the end of March.
With this week's return to Parliament, the timetable for vaccine deployment, quarantine, and opening the Australian border could be at the top of the list of discussions.
Workers frontbencher Clare O'Neil believes Australia is far from opening the border.
"We have a federal government that has two responsibilities for this-vaccination and quarantine-and they do a very average job for both of them," she said on Sunday at ABC. I told the insider program. "They need to get their game."
Last week, no locally acquired cases of COVID-19 were reported, but NSW reported two new infections in the quarantine.