[ad_1]

Tedros Adhanom Gebreyes, director of the World Health Organization (WHO), warned on Wednesday that the COVID-19 pandemic was not over yet, and he said, "The false reassurance that the vaccine has ended the pandemic. We shared the concern that it was a "feeling".
Speak on the eve of Thanksgiving at a press conference in Geneva, Tedros Said WHO was concerned that individuals in multiple countries around the world who received COVID-19 shots have not taken precautions to protect both themselves and others from the virus.
read more
Editorial: Give the correct name to the virus that causes the pandemic
The WHO chief also said that all reported cases and at least 60% of deaths from COVID-19 came from Europe again last week.
"A huge number of cases have led to unsustainable pressure on the health system and exhausted health care workers," he said.
"In many countries and communities, we are concerned about the false sense of security that vaccines will end the pandemic and that vaccinated people do not need to take other precautions … Vaccines save lives. , The infection cannot be completely prevented. "He added.
read more
Vaccinated people easily infect COVID-19 delta mutants at home: UK study
Tedros also noted data suggesting that vaccine efficiency declined over time and faced delta mutations in COVID, initially reducing infection by about 60%, but now to 40%. I explained that.
WHO officials say that vaccines can reduce the risk of serious reactions and death to COVID-19, but at the risk that vaccinated individuals will be infected with the virus or others. I reiterated that it doesn't mean nothing.
"I can't say this clearly enough. Even if you're vaccinated, keep taking precautions to prevent yourself from getting infected and to get someone else who could die. "Tedros said.
"It means wearing a mask, keeping distance, avoiding crowds, and meeting others outdoors or in a well-ventilated area, if possible."
The WHO chief said organizations continue to urge governments around the world to take a "coordinated approach" to prevent infections through public health measures such as social distance and blockade.
Hundreds of thousands of people have gone out on the streets to demonstrate against the COVID-19 vaccine obligation, and protests have broke out in several European countries and other Western countries over the past week. The EU government, in particular, has begun to tighten relevant restrictions.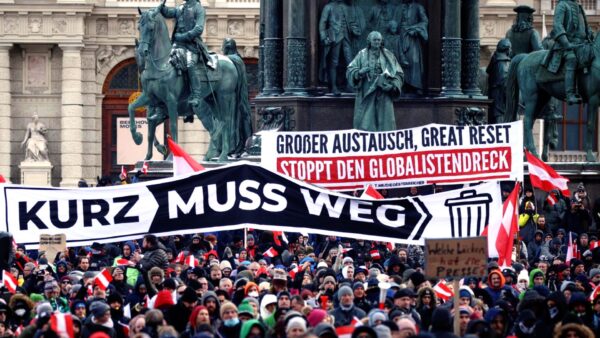 In Austria, tens of thousands of people protested in Vienna, Salzburg, and other cities after the Austrian government announced the implementation of a national blockade in the midst of a surge in virus incidents.
The Austrian blockade begins on 22 November and lasts 10 days before being reassessed by government officials. The country said it would require vaccines for all from February 1, 2022.
Similar protests have occurred on the territories of Switzerland, Italy, Ireland, Croatia, France, the United Kingdom, and the island of Guadeloupe in France. There, demonstrators set fire to police cars and blocked the road.
Meanwhile, Germany is currently considering making the COVID-19 vaccine mandatory for everyone from February 1, 2022. This is because the government has not been able to convince enough people and is worried about the capacity of the hospital.
"Europe is once again the epicenter of the pandemic, but no country or region is outside the forest," Tedros said Wednesday. "It is important for all countries to surge their capabilities now to ensure that appropriate measures are taken to avoid the worst consequences of future waves."
[ad_2]