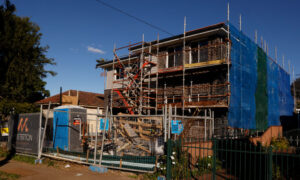 Australia's construction industry shrank for the first time in July after nine months of continuous expansion after strict blockade regulations were enforced in various states across the country.
Autumn pointed out by the Australian Industry Group (Ai Group) and the Housing Industry Association (HIA) Construction figure of meritIn July, it fell 6.8 points to 48.7. According to the index, readings less than 50 points indicate contraction of activity, with smaller numbers indicating faster pace of contraction.
"In Australia's two largest states affected by the COVID-19 outbreak and the associated restrictions, the construction industry shrank in July after a strong nine-month expansion," said Ai Group policymaker. Said Peter Burn.
HIA Chief Economist Timriadon said building activity was reduced by 14.4% as a result of the inability to work in the field.
"Blockages in other cities also undermined activity and new orders," Riadon said.
But that's not all bad news. Mr Burn said industries outside of New South Wales and Victoria continue to grow, and many builders and builders report difficulty in finding skilled workers.
"Negative national results have masked continued growth outside New South Wales and Victoria and further expansion of both residential and commercial construction," said Burn. But he said the already shrinking apartment building sector had shrunk further in July.
Riadon said a record amount of new single-family home construction and renovations await workers as restrictions are relaxed.
"For builders in other regions, their main challenge is to keep up with the heavy work," said Riadon. "Capacity constraints will continue to be a major challenge, at least for the rest of the year."
Construction work in Greater Sydney resumed on July 31, outside the eight LGAs of concern.
However, the industry is urgently urging the government to classify construction workers as "required" and allow eight LGA workers to resume work in the field.
and Joint statement On Monday, the Australian Construction Workers Association (ACA) and the construction union CFMEU said the resumption of construction in Greater Sydney was at stake unless construction workers were included in the "permitted workers".
"Many construction sites have a hard time reopening because more than half of their workforce is in a locked-down LGA after a two-week industry closure and they aren't allowed to move," ACA said. Said Jon Davies, CEO of.
CFMEUNSW Executive Secretary Darren Greenfield said many of these workers are supervisors and are needed on-site to ensure that work is done safely and that critical plants and equipment are operated. ..
"Construction has been heavily impacted by a two-week outage and we can't delay the reopening of the worksite any further," Greenfield said.