[ad_1]

New South Wales (NSW) reported 124 new cases of COVID-19 acquired locally. This is the highest number per day since the outbreak began in Sydney in mid-June.
At least 70 of those people were in the community for all or part of their infection period.
Prime Minister Gladys Berejikrian warned that the number of cases would increase again.
"Once again, the number of cases is expected to continue to increase before it begins to decrease, and we need to support ourselves for that," she said Thursday.
The surge in cases was recorded Wednesday from 24 hours to 8 pm, up from 110 the day before.
The previous high was 112, announced on July 12.
Of the 124 cases, 37 were quarantined throughout the period of infection, 22 were quarantined for part of the period of infection, and 48 were infectious in the community.
The quarantine status of 17 cases is under investigation.
The prime minister said a record 85,185 people were tested, resulting in an increase in the number of cases.
"We expect the number of cases to increase further," she said.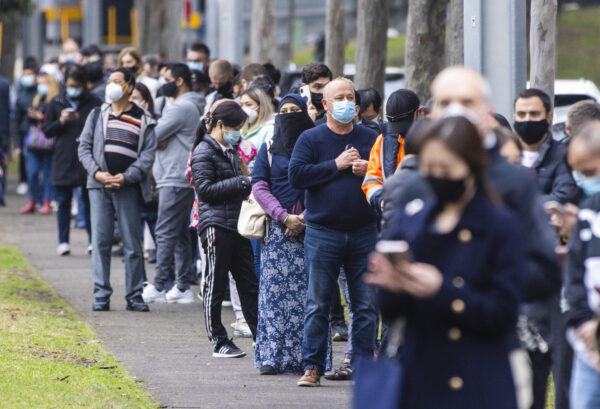 Dr. Jeremy McAnulty of NSW Health said the new number includes three workers in two Sydney geriatric care facilities.
Workers at Palms in Kirrawee, a geriatric care facility in southern Sydney, tested positive.
"This person has not been vaccinated and the residents and staff have been tested. Two staff at the Belrose Elderly Care Facility tested positive," said McAnulty.
Greater Sydney and its surroundings must wait at least until the weekend to see how the stricter blockade rules have affected and whether the blockade will end on time.
Berejiklian says the virus needs to be crushed before the restrictions are lifted.
"From July 31st, we hope to be able to explain to the community what we can do about adjusting these settings," she said.
[ad_2]