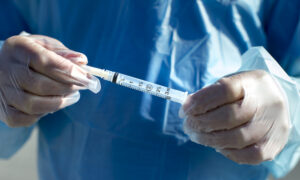 Scott Morrison has abandoned plans to give all Australians the first vaccination by the end of October.
The Prime Minister abandoned the target after Australian medical authorities recommended that people under the age of 50 be vaccinated with the Pfizer vaccine instead of AstraZeneca because of concerns about blood clotting.
He admits that even if the government doubles orders for Pfizer vaccine, not all Australians will receive their first dose by the end of the year.
His decision to destroy the timetable confused the deployment, but Jane Halton of the National COVID-19 Commission wants calm.
"The secret now is for people to calm down a bit and get back to basics," she told Nine on Monday.
"We need to vaccinate the country. We need a vaccine for that. We plan to get Pfizer later this year, and the total dose of Pfizer will be 40 million."
Opposition leader Anthony Albanese described this development as a shambles.
"Beyond the belief that the Morrison government seems to know nothing about vaccination schedules when this was supposed to be their main focus, given that the state has most of its responsibility. "He said.
However, federal frontbencher David Littleproud defended the vaccine strategy and argued that Australia's progress should not be compared to other countries.
"I don't think Australians want Chinese or Sputnik vaccines," he told Nine.
"Australia was calm and systematic about ensuring that they were confidently vaccinated with the best vaccines. No matter how long it takes, it will."
Epidemiologist Mary Louise McClaus says it will take two years for Australians to be fully vaccinated unless the country's vaccination rate rises from 100,000 to 120,000 per day.
The latest daily tally was 27,209.
The McKell Institute has found that delayed vaccines increase the likelihood of blockades and hurt the economy. Warnings about costs can be over $ 1.4 billion.
Trade Minister Dan Taehan will visit Europe on Wednesday to urge German, Belgian and French counterparts to do what they can to increase vaccine production.
Many of the world's vaccines, including AstraZeneca and Pfizer, are manufactured in Europe.
However, due to continental export control, it effectively blocked contract supply to countries, including Australia.
Meanwhile, thousands of Australia's most vulnerable people are still waiting for their first vaccination eight weeks after deployment.
People living and working in specialized disability accommodation were to be included in Phase 1a of vaccine deployment.
However, Alma CEO Andrew Richardson, who runs about 350 group homes for the organization, said his clients and staff had been overlooked.
"It's a shame. People with disabilities living in an independent living environment supported by Alma have never been vaccinated," he told ABC Radio.
David Moody of National Disability Services said there was a similar story across the country.
"We have a lot of members who, of course, continue to be concerned," Moody said.