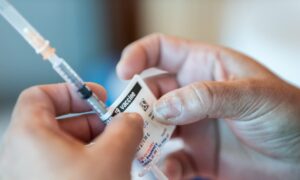 The Morrison government aims to give all Australians at least one coronavirus vaccine by the end of the year.
But trade minister Dan Tae-han says the world is still under a pandemic cloud and things can change rapidly.
Last week, the government's vaccine program suffered a major setback after health officials recommended that AstraZeneca vaccine be given only to people over the age of 50 due to the risk of blood clotting.
This was a vaccine that the government relied heavily on, but since then, Pfizer's vaccine will be secured 20 million more times and will be shipped overseas later this year.
"It's definitely a goal. It's a goal we set to deliver doses to all Australians by the end of the year," Tehan told Sky News' Sunday Agenda program.
Prime Minister Scott Morrison initially worked to vaccinate all Australians by October.
"When dealing with a pandemic, there are many unknowns and you need to make sure you set your goals and are ready to adjust them when things happen." Taehan said.
The minister is about to embark on a "vaccine diplomacy" trip to Europe starting Wednesday.
He speaks with the European Union and with ministers from France, Germany and Brussels.
"I will also meet with the Executive Director of the World Trade Organization to discuss what can be done to ensure a vaccine supply not only to Australia but to the world," said Tehan.
The Pacific countries are experiencing some overloading of their health care system and will soon distribute shots of the coronavirus vaccine manufactured in Australia, with the Morrison government promising 10,000 doses per week.
The government says it plans to make effective use of domestic AstraZeneca products in neighboring countries, including the devastated Papua New Guinea and East Timor.
Fiji, Solomon Islands and Vanuatu will also start taking it in the coming weeks.
In a joint statement, Health Minister Greg Hunt, Foreign Minister Marise Payne, Secretary of State for International Development and Pacific Zed Seselja said, "Health safety and economic recovery in our region are intertwined with ourselves." Stated.
New advice on the AstraZeneca vaccine has temporarily suspended vaccination in the Cape York Peninsula and Torres Strait in Queensland. Here is a dinghy trip just a few kilometers or short from the COVID infected PNG on the northernmost island.
People in those northern areas who had the first AstraZeneca jab without adverse effects were advised to proceed with the second follow-up jab.
However, Torres and Cape Hospital and Health Services says it is uncertain about the plans for people over the age of 50, who make up the majority of the region's population.
"We have not yet received federal information on when and how the required dose of Pfizer will be delivered to areas like us to comply with the new vaccination recommendations," the service said on weekends. I told you.
By Colin Brinsden and Tracey Ferrier