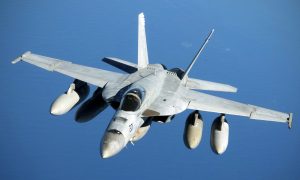 Australia's top intelligence official says a small but worrying number of former defense insiders have put cash in front of the country.
ASIO boss Mike Burgess said in his latest annual threat assessment that his agency had been tracking veterans willing to sell military training and expertise to foreign governments for several years. clarified.
However, the issue only came to the public's attention recently, with media reports that Western pilots were wanted by China for military training.
"These individuals are lazy. They are 'best tools' rather than 'best weapons,'" Burgess said.
"Selling our combat skills is like selling secrets, especially if training and tactics are being transferred to us or our allies at some point in the future to the nation that will use them. that's right."
He said there have been cases where former insiders have been stopped from traveling abroad to provide training.
"However,[in other cases]legal ambiguity has hampered the ability of law enforcement to intervene."
He pointed out that the overwhelming majority of veterans are Australian patriots in every sense of the word.
"A small but worrying number are willing to prioritize cash over the country," said the spy chief.
"Third-party companies have provided Australians with hundreds of thousands of dollars and other important perks to help authoritarian regimes improve their combat skills."
He said there has been "a clear increase in online targeting of those working in the Australian defense industry" since the announcement of AUKUS, a security cooperation agreement between Australia, the United States and the United Kingdom.
"As we move forward with AUKUS, it is important that our allies know that we can keep our secrets and keep theirs."
Defense Secretary Richard Marls said last week he had asked the ministry to review policies to stop former soldiers and personnel from sharing sensitive information with foreign powers.
He also warns of possible changes to the law.
Burgess said his concerns are not limited to the defense sector.
"If we take security seriously, Australia must have laws and obligations to prevent former insiders from transferring any form of classified know-how to a dictatorship," he said.
John Blaxland, an international security expert at the Australian National University, said it was a "chilling story" from the spy chief.
"This is multifaceted and real," Professor Braxland told ABC Radio National on Wednesday.
"(Mr Burgess) has taken the lead in sending the message that his predecessor as Executive Director did not have the guts to do it on this scale."