The alleged beating of a British Hong Kong resident by the Chinese consulate in Manchester, England, on October 16 sparked international condemnation. Hong Kong residents involved in the incident released their first official statement on October 19. He said at a press conference that he was dragged into the Chinese consulate, beaten by several men, and hospitalized with injuries.
On October 16, the day of the 20th National Congress of the Chinese Communist Party (CCP), British Hong Kong residents marched outside the Chinese Consulate General in Manchester to protest against the Chinese Communist Party and its leader, Xi Jinping. I did. A video circulating on social media showed a man wearing a black hat and ponytail being dragged through a gate into the Chinese Consulate in Manchester and attacked by five men as he lay on the ground.
Protesters held up banners outside the Chinese consulate that read, "Heaven will destroy the Chinese Communist Party."
According to comprehensive media reports, assaulted 30-year-old Hong Kong native Bob Chan said at a news conference on Oct. 19 when men wearing masks emerged from the consulate and snatched a banner. said the attack had begun. peaceful protesters.
A press conference was organized by several British MPs, and Hong Kong's Chan said he was physically and mentally injured by the incident.
Protesters dragged into Chinese consulate, beaten and injured
Chan said he was first beaten by men wearing masks outside the consulate, some of whom tried to tear down banners held by protesters.
"Then I found myself being dragged into the compound. [CCP] Consulate. I clung to the gate where I was kicked and beaten, but I couldn't stand it for long."
"In the end, I was dragged to the ground of the consulate. I felt beaten and kicked by several men. Other protesters tried to get me out of the situation, but It didn't help," Chan said of the situation.
"The attacks stopped when a man, who turned out to be a uniformed officer of the Greater Manchester Police, pulled me out the gate," he said.
"Let me say it again. I'm very clear. I was dragged into the consulate. I didn't try to enter it," Chan stressed.
Greater Manchester Police said as many as 40 protesters had gathered outside the consulate around 16:00 BST when a group of men "came out of the building and the men were dragged into the consulate and attacked".
A police statement said: "Due to concerns for the man's safety, officers intervened and removed the victim from the consulate premises.
"I never thought something like this would happen in the UK."
Chan said at a press conference that he had bruises on his eyes, head, neck and back. "I am shocked and hurt by this gratuitous attack," he said, adding that he was concerned for the safety of himself and his family.
"I was shocked because I never thought this would happen in the UK. I still believe that the UK is a place where freedom of speech and protest are fundamental human rights. "I will never change," Chan said.
Foreign Secretary James Cleverley said on October 19 that the incident was "absolutely unacceptable and the protests were peaceful and lawful". Since they were on British soil, this kind of behavior is unacceptable. "
City police said they were investigating, asked for more footage of the incident, and said no arrests had been made.
James said the UK would decide "what more needs to be done" once the police investigation was completed.
A spokesman for the Chinese consulate said the protesters "hanged the front door with an insulting portrait of the Chinese president." Beijing later claimed that consular officials had been harassed and said there had been attempts to enter the consulate.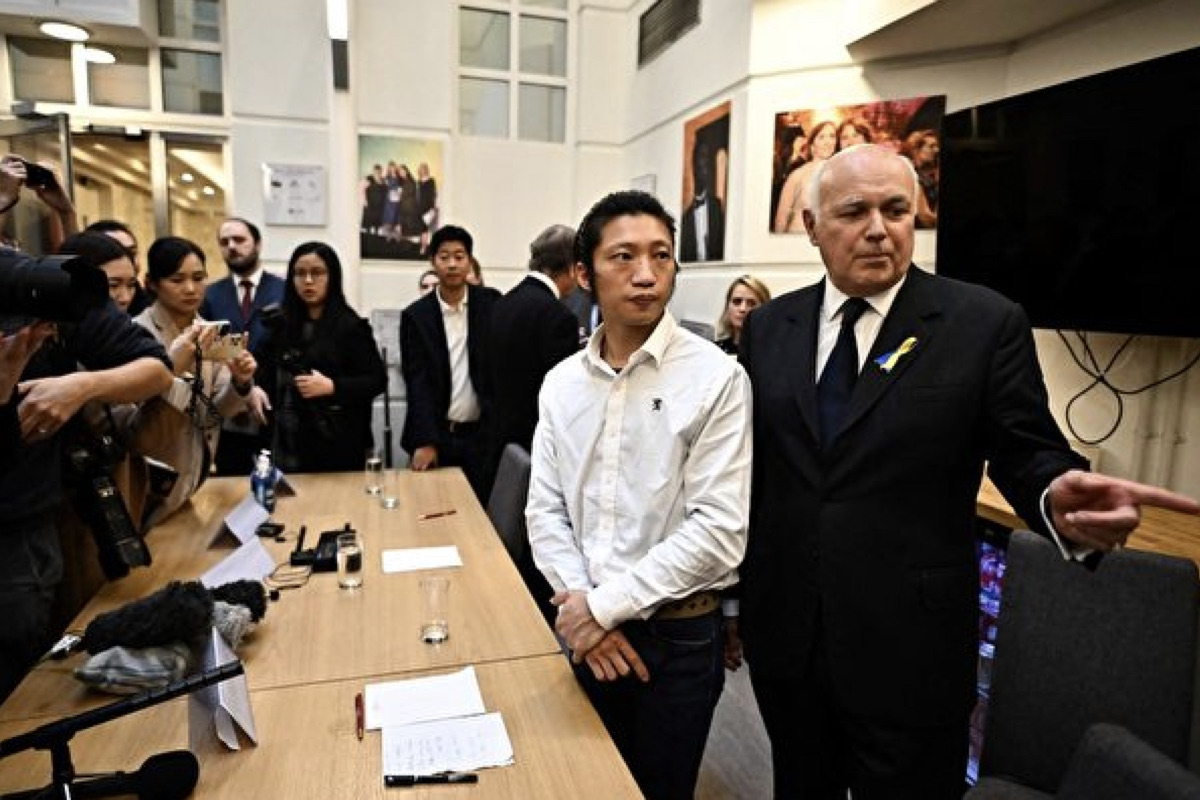 British MPs name four Chinese diplomats involved in attack
Former Conservative Party leader Ian Duncan-Smith said the British government should tell the Chinese ambassador that Britain is expelling various people.
He said the video showed the consul general's remarks to be "absolute nonsense."
A video posted online shows a gray-haired man in a medical mask, believed to be China's consul general, Zheng Xiyuan, kicking protesters' posters and pulling Zhang's hair outside the consulate. rice field.
Chan sat next to Duncan Smith, criticizing the British government's response to the incident as "totally inappropriate" and that Chinese diplomats involved in the attack, including Zheng, should be expelled immediately. said. Zhang said he supports calls to expel Chinese diplomats.
At a press conference, former Liberal Democrat MP Sir David Alton reiterated his call in the Senate that Zheng, along with three other Chinese diplomats involved in the attack, should be exiled immediately. He said he supports calls to expel Chinese diplomats.
Lord Alton said:he showed a striking resemblance to the man [filmed in the assault]There were three other officials at home last night that I named. "
"That is, Consul General Zheng Xiyuan, Consul Gao Lianjia, Counselor Chen Wei, and Vice Consul General Huang Yingjie. People have identified them and their names on social media."
Attack on the Chinese Consulate in Manchester.
Here is the culprit. @trussliz you know what you have to do

From left to right:

Consul General Chung Heiyuan
Consul Gao Lianjia
Counselor Chen Wei
Vice Consul General Fan Yingjie pic.twitter.com/O85LHxaJ5q

— Father Ted Crilly (@TedCrilly666) October 17, 2022
Relations between China and Britain have become increasingly strained since Beijing imposed a national security law on Hong Kong. The UK has been highly critical of the Hong Kong National Security Law, saying it is being used to suppress dissent.
In 2021, a new visa regime will give Hong Kongers with BNOs the right to live, work and study in the UK and eventually obtain citizenship.