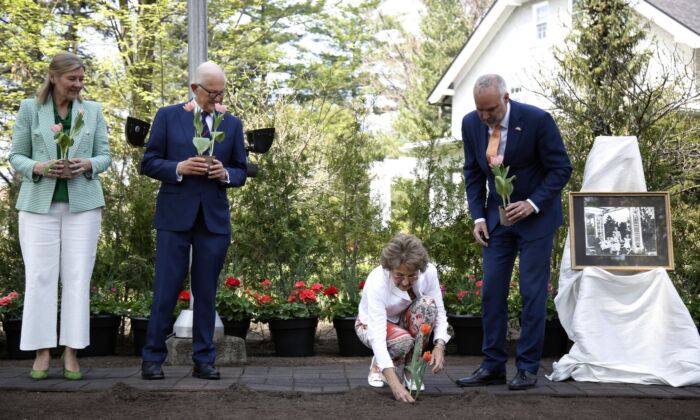 Princess Margliet of the Netherlands is her husband Peter van Forenhofen (second from left), Dutch ambassador Ineskoppouls (left), and CEO of the National Capital Commission at Stonoway, Ottawa, May 12, 2022. Plant Tobinasbaum (right) and tulips. Canadian Press / David Kawai)
Princess Margliet of the Netherlands is visiting Ottawa, born during World War II, today.
The princess was born in Ottawa's Municipal Hospital after the Dutch royal family fled to Canada in 1940 to escape the Nazi occupation forces.
During her official visit to Canada, she meets with the Prime Minister, Governor and Parliamentarians and talks with Canadian veterans who helped free the Netherlands from the Nazis.
She also plans to visit the Tulip Festival in Canada and plant tulips in Stonoway. In Stonoway, she and her family lived as children and are now the residence of the opposition leader.
The official visit until Monday was originally scheduled for 2020 to commemorate the 75th anniversary of the liberation of the Netherlands.
After Germany invaded the Netherlands, Princess Juliana, the heir to Queen Wilhelmina of the Netherlands, evacuated with her husband and children for the safety of Canada.