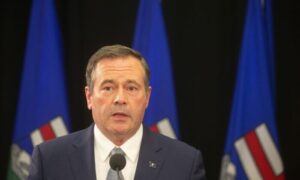 Alberta's Premier Jason Kenny said there are early signs that the state "reached and exceeded" the peak of COVID-19 infection, and cases are likely to begin to decline.
and Press conference On January 20, Kenny said the "encouraging" news came from a wastewater analysis suggesting a decline in COVID-19 infection rates in 19 communities in Alberta, but current statistics show. A decrease in the positive test rate has been shown.
"These samples and studies show that Omicron and COVID-19 are reduced in 15 of 19 communities," he said of the analysis.
"Most important thing [are] As of January 16th, there was a clear significant decline in Calgary and Edmonton. [the] Omicron wave. "

Kenny added that while the analysis suggests a trend toward increased infections in the remaining four communities, the spread of Omicron is inconsistent across the state.
"Remember that Omicron did not affect all regions of the state at the same time, so we can expect to see differences in some regions," said the Prime Minister.
Kenny caveat Although the number of cases may decrease, hospitalizations continue to increase, putting further pressure on the already overwhelming healthcare system. This is especially true in Calgary and Edmonton, where some hospitals are nearly full.
"Based on the rate of growth, we know … there is a delay between the peak of infection and the peak of hospitalization," Kenny said. He estimated that there would be a two-week delay in seeing the expected more than 1,500 COVID patients in the non-intensive care unit.
As a positive note, Kenny began to distinguish COVID-19 hospitalizations from accidental COVID-19 (people who were hospitalized for other reasons and tested positive but asymptomatic). Since January 10th, I have talked about healthcare. The system was able to better plan hospital beds and treatments, even if accidental cases increased the load.
"Even if an asymptomatic patient is admitted to COVID, an accidental COVID patient, and then the test is positive, additional treatment protocol, quarantine, is required," he said.
"Staff have different standards for personal protective equipment, so those cases can add a little to the pressure of our hospital."
Alberta as of January 21 report Of the 658 non-intensive care hospitalizations, 40% were hospitalized primarily for COVID, 17% were due to COVID, and 46% were accidental or "undecidable."
For 52 patients admitted to the intensive care unit, government data showed that 69% of cases were due to the virus, while 31% were accidental admissions or whether the virus contributed to them. Is unknown.
To prepare for the surge in hospitalizations, the government said it would increase the number of additional beds, maximize the workforce of nursing students, and open a COVID-19 community clinic.
"Although hospitalization continues to grow, it has the advantage of being able to see how Omicron works in other jurisdictions. That's why healthcare systems can meet the growing demand for Omicron cases. So now we are taking decisive action, "says Kenny. statement January 20th.
Canadian Press contributed to this report.