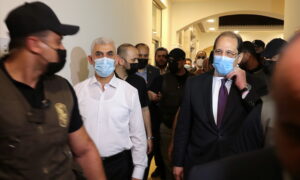 Gaza-Egyptian intelligence minister met with Hamas leaders in Gaza on Monday to strengthen the ceasefire between Palestinian terrorist groups and Israel and discuss recent post-combat reconstruction plans, Egyptian and Palestinian authorities said. Said.
This is the first time the Egyptian intelligence director has visited an excursion since the early 2000s.
An 11-day battle between Israel and Hamas broke out on May 10.
Medical personnel in Gaza said 253 Palestinians were killed during the battle. Palestinian rockets and missiles have killed 13 people in Israel.
Camel's visit is seen as Cairo's efforts to regain a more important role in mediation between Israel and Hamas and to revive the deadlocked peace process between Israel and Palestine.
Sisi has instructed Egyptian authorities to continue efforts and meetings between Israel and Hamas to resolve the issue of prisoners and missing persons, Egypt's state news agency MENA reported on Sunday.
Following a meeting with Camel in Gaza, Shinwar said there was "well potential for progress" in resolving the prisoners problem, but added that Hamas demanded that these negotiations be separate from the ceasefire negotiations. It was.
On Sunday, Camel met with Israeli Prime Minister Benjamin Netanyahu in Jerusalem. Prime Minister Netanyahu said his meeting dealt with regional security issues and how to prevent Hamas from sucking up private aid to strengthen its capabilities.
Kamel also met with Palestinian leader Mahmoud Abbas in Ramallah on Sunday and gave him a message from Sisi confirming Cairo's support for the Palestinians and Abbas, MENA said.