Freedom of religion in Washington protests on November 4, when reporters were imprisoned at the forefront of reporting atrocities against Christians in Nigeria.
"This is a disturbing development. If a journalist reporting that the government refused to prosecute a person engaged in religiously motivated atrocities was arrested in his report, this would be the Nigerian government. It will provide further evidence of being involved in the ongoing terrible systematic religious persecution in Nigeria, "said Tony. Perkins to the Epoch Times, Commissioner of the Freedom of Religion of the United States (USCIRF).
According to Ruben Buhari, a freelance journalist and friend who visited Vinyat on the afternoon of November 6, the charges against Vinyat are likely to be "harmful falsehoods and incitements." According to Buhari, the arrest is likely related to the latest story of Vinyat. "In Nigeria, police have accused the slaughter of being" evil, "but not arrested," the Epoch Times said. According to Buhari, Vinyat is likely to face official charges at a court hearing on November 8. Police officials did not answer the call from The Epoch Times.
"Nigeria authorities allow violent Furani militants who destroyed the village to become Scott-free without investigation, prosecution, or punishment, and prison with brave journalists reporting on the slaughter of innocent civilians. Filling up quickly is an anger at justice, said Nina Shay, director of the Religious Freedom Bureau at the Hudson Institute, in a text to the Era.
"The recent arrest of Luka Vinyat has continued to systematically conceal the Fula atrocities against peaceful Christian villagers after reporting on the massacre of the American media," Shay said.
"This is further evidence of the ethnic and religious genocide in northern Nigeria, which is being carried out by official collusion. President Buhari, the son of the Fula chief, guaranteed the immediate release of Vinyat. Unless we file a fair proceeding against terrorists, Washington must act. "
The story of the problem is the fact that police and military officials failed to arrest for a month after a horrific massacre of 38 unarmed men, women and small children in the village of Madamai, Kaduna, on September 26. Focused on.
Police spokesman Mohammad Jariga told Vinyat about the story, which was released on October 29. We will parade the suspects to the general public and let them know that Kaduna cannot tolerate such evil acts, "Jariga said.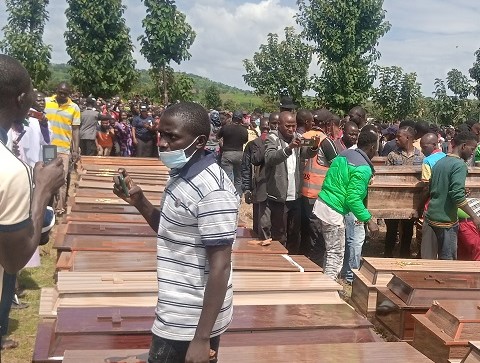 Binniyat pointed out in the story that police spokesmen used the word "collision" to describe a unilateral attack on unarmed men, women and children by heavily armed men. .. Even now, more than a month after the massacre, Kaduna police have been virtually unarrested, prosecuted, or virtually unexplained.
According to the Committee to Protect Journalists (CPJ), Vinyat has been a perplexed journalist since being imprisoned in Kaduna for several crimes, including "security" in 2017.
In July 2017, CPJ Africa Program Coordinator Angela Quintal said, "It is unacceptable to claim journalists for'security'and inform the general public, and to arbitrarily imprison them when they appear at a hearing. It's exorbitant. "
According to Jonathan Rosen, CPJ's senior African program researcher, CPJ is also following the current plight of Vinyat.
Binniyat is one of several active journalists known as a government critic charged with "incitement." Some, like Internet journalists Stephen Kefas and George Makeri, file reports from private locations in Nigeria's median strip for fear of being arrested and detained for months without bail.
Reporter Jones Abili was detained for two years in a secret underground prison. Abili told the Epoch Times that he was not free to talk about his prison experience as charges against him were ongoing.
Kefas had a tropical illness such as malaria when he left Kaduna Prison after a five-month stay in 2020. Even the late Obadiah Malafia, a former government official, was arrested in the fall of 2020 and submitted an opinion piece in 2021 while hiding until his death at Joss Hospital this year.
"Roughly speaking, Nigeria's press freedom is threatened when journalists are afraid to be detained for their work," Rosen told The Epoch Times.
Vinyat was recognized as one of the few Epoch Times reporters whose factual reports of atrocities caught the eye of Fox News war correspondent Lara Logan.
Since 2015, more than 43,000 Christians have been detained in the central zone of radicalized Islamic mercenaries or the Nigerian branch of the Islamic State of Iraq and Syria (ISIS), according to Logan's documentary on the Nigerian massacre that began streaming. Was killed by heavily armed rebels on September 27 at the Fox Nation site.
Logan's record of religious purification in Nigeria has received little media attention in the wider world. His colleagues in Nigeria believe that Logan's documentary featuring the work of Vinyat and other Epoch Times journalists may have caught the attention of Nigerian authorities.