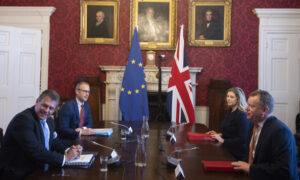 Negotiations aimed at ending the deadlock over the implementation of the Brexit withdrawal agreement in Northern Ireland ended without a breakthrough.
After a three-and-a-half-hour meeting with Vice-President of the European Commission in London, Sir Frost of Brexit said he had "frank and honest" discussions and agreed to continue the negotiations. It was.
"There was no breakthrough. There were no breakdowns, and I would like to proceed with the discussion," he said.
The meeting took place amid ongoing tensions over checking goods moving from other parts of the United Kingdom to Northern Ireland, as required under the terms of the Northern Ireland Protocol of the Agreement.
Sir Frost refused to rule out the prospect that Britain could unilaterally delay the inspection of chilled meat without an agreement by then.
Prior to the talks, Mr. Sefkovich said the EU would respond "resolutely and decisively" if Britain did not meet the obligations of the international treaty, and that such a move could lead to a trade war. showed that.
Sir Frost said: There were no breakthroughs, but we continue to consider all options for that and many other issues. "
He added:
"The EU argues that the Protocol should be operated in a very pure way. In reality, this is to support the peace process and deal with the very delicate politics of Northern Ireland. A very well-balanced document designed.
"If possible, it's clearly best to find a negotiated agreement, and that's what we're really trying to do. We can't do that and we're working very hard to make it happen. If so, obviously consider all options for the next step. "
In a post-meeting statement, the government expressed concern about the lack of "substantial progress" in a series of issues and warned that without an early breakthrough it could impact drug supply.
"The UK is looking forward to continuing to submit detailed proposals and discuss potential proposals the EU may make, as it has done throughout the year."
"To make real progress, further discussion is urgently needed, especially to avoid disruptions to important supplies such as medicines."