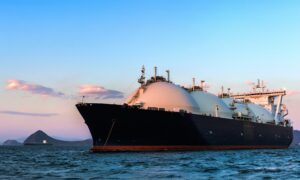 European benchmark Dutch TTF gas futures fell by as much as 10% on October 4 to its lowest level since the end of July.
Refinitiv energy analyst Yury Onischiv said the outlook for gas prices this week was bearish due to lower demand and an increase in Norwegian gas exports.
"Long-term weather forecasts on a seasonal basis also give confidence to market participants as we approach the winter season when weather variability has a major impact on gas consumption and balance," said Onyshkiv. .
End of Russian gas to Europe
The loss of most of Russia's natural gas supplies due to the war in Ukraine has forced countries across Europe and the UK to fill gas reserves out of fear of shortages.
Russia used to supply about 40% of Europe's gas demand, but now accounts for less than 10%.
The situation is likely to remain unchanged after the Nordstream 1 and Nordstream 2 pipelines leading to Germany under the Baltic Sea were blocked last week.
Other pipelines through Belarus and Poland were also closed.
The only remaining flow of Russian gas comes from the pipeline through Ukraine to Slovakia and across the Black Sea through Turkey to Bulgaria.
But Europe has not yet found a sufficient and reliable supply to replace Russian gas.
Analysts estimate that the European Union (EU) will need to import about 200 million tonnes of liquefied natural gas (LNG) over the next decade to phase out Russian gas.
Germany needs about 40 million tons of LNG to replace the 50 billion cubic meters of pipeline gas it was getting from Russia.
Energy shortages have pushed consumer inflation up by 10% across the Eurozone.
According to Bloomberg, citing the Hungarian Ministry of Economic Development, Russian energy company Gazprom has signed a deal with Hungary to delay natural gas payments for three years.
This has brought much relief to the Central European country after fears that import payments would exacerbate its currently severe financial problems.
The deal comes days after Gazprom suspended natural gas deliveries to Italy after a dispute with Austria, where Gazprom controls shipping rights to the Southern Alps.
Europe stocks up for the cold winter
Energy reserves have been filled at a steady pace as European countries increased their LNG imports by ship from the United States and Qatar, and increased wintertime pipeline supplies from Norway and Azerbaijan.
According to Bloomberg, inventories were at about 88% in early October, above the five-year average for this time of year.
Total stocks are well above the 1 November target of 85% for this year set by the European Council.
The EU also agreed last week to mandate at least a 5% reduction in electricity consumption during peak electricity tariff times.
European leaders are still hopeful that the bloc will be able to survive the end of winter because of the milder climate.
French Prime Minister Elisabeth Borne said on October 3 that the country had diversified its supply and stockpiled enough to cope with this winter's energy crisis.
"We are ready to face this winter," Borne told the French parliament, adding that there was no risk of energy cuts in the coming months "if everyone does their part."
But if gas imports from sources other than Russia are interrupted, replenishment will become more difficult.
An energy shortage could occur well before the end of the winter of 2023 if all remaining gas imports from Russia were to stop completely or if temperatures drop sharply this winter, EU officials say. .
Economists report that high energy prices will likely trigger a recession in Europe by the end of this year, or early 2023 at the latest.
Even if the continent manages to survive this winter, stocks will likely drop to minimal levels, requiring even more massive resupply attempts in preparation for the winter of 2023-24.
"We may be able to avoid catastrophe this winter, [but] Ben Luckock, co-head of oil trading at Trafigura, said at the Energy Intelligence Forum in London, according to a Reuters article.
Reuters and Associated Press contributed to this report.