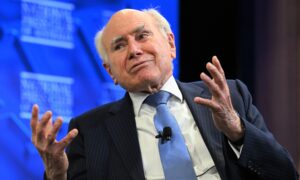 Former Prime Minister John Howard will help the Liberals faithfully rally the party at the West Sydney Marginal Seats in Penrith as they make their final push for the vote before Election Day.
Howard's appearance in Penrith, scheduled for Sunday, will be Howard's second outing in Penrith days after he campaigned alongside Stuart Ayers, who holds the seat by a margin of 0.6%. .
Treasurer Matt Keane opted not to attend the event, instead opting to make a local funding announcement in Autry held at 6.8% by Minister for Multiculturalism Mark Coore.
Labor will rally in Parramatta, a seat that is key to their electoral chances.
Gateway to Western Sydney is held at a margin of 6.5%, but demographic changes and the retirement of incumbent Jeff Lee have put it on the knife edge.
Labor on Sunday will hire an additional 250 full-time equivalent school counselors next semester to address what the party says is a growing mental health crisis in New South Wales schools. Pledged $75 million to recruit.
The Greens take advantage of Sunday's sweltering temperatures outside the city to call for a 'climate-friendly' western Sydney.
This includes Greenbelt city boundaries, council-specific tree targets, and home buyback plans for the lowest parts of the Hawkesbury and Nepean floodplains.
Meanwhile, independents Helen Conway, Larissa Penn and Victoria Davidson boarded a crowdfunded one-off bus route created by frustrated commuters to fight bus cancellations on Sydney's North Shore. Protest
The campaign comes as Labor accuses Prime Minister Dominic Perrotet of lying about Sydney Water's privatization plans.
In an interview with Sky News on Friday, the prime minister said the privatization of Sydney Water "has never been considered or considered by the government before".
However, the Department of Labor said it had found documents showing that a privatization investigation involving Sydney Water's $1.5 billion asset had been conducted in April 2021.
Perrottet repeatedly told voters that Sydney Water would not be privatized and accused Labor of a "Medicare-style" campaign.
Earlier, he asked Chris Minns about how the NSW Labor leader would fund large infrastructure projects, claiming they could lead to project cancellations and tax increases.
The prime minister on Saturday hit back at Prime Minister Anthony Albanese's criticism of the Kids Future Fund, a superannuation-style fund for children born in 2012 or later.
Albanese said the fund, in which the government adjusts parental contributions up to $400 a year, would further widen the gap between rich and poor.
"The prime minister coming out and saying he is against setting up a future fund account for our children, like the NSW Labor Party, is an indication of the challenges families face today. It shows how alienated we are," Perrottet said Saturday.