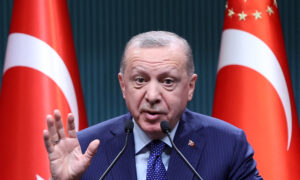 Turkey, Ankara-A Turkish journalist who is critical of President Recep Tayyip Erdogan's government and is in exile in Germany is reportedly warned to stop writing after being attacked by three men outside his home. ..
In a video posted on Twitter, Turkey's independent Burgun newspaper columnist Erk Acarer said the attack occurred late Wednesday in his courtyard on the outskirts of Berlin. He suffered some swelling on his head and was kept in the hospital for several hours for observation.
Berlin police confirmed the attack on Wednesday night, saying that Akara had been attacked by several people in the Rudow district.
In a video posted on Twitter, Acarer said one of the attackers warned in Turkish that "you won't write."
Earlier, a journalist posted a photo of himself, stating that he had been attacked "with a fist and knife."
"I know the attackers. I will never give in to fascism," Acarer wrote.
Acarer was one of a group of journalists charged with reporting on the funeral of a Turkish intelligence officer who was killed and quietly buried in Libya. Five of the journalists were convicted of violating Turkish intelligence law and disclosing confidential information. The proceedings against Acarer continue.