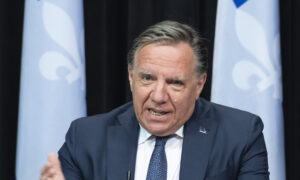 Quebec's proposal to amend parts of the Canadian Constitution as part of a change in the state's language law has been endorsed by all leaders of major Canadian political parties.
May 15, Quebec Prime Minister François Legault announced that he wrote to Prime Minister Justin Trudeau has informed him of Bill 96, Quebec's "strongest action to protect our language since the enactment of Law 101 in 1977." Bill 101 made French the official language of Quebec's government, courts and workplaces. Bill 96, a new law, amends the Constitution of Canada to state that Quebec is a country and French is its official language.
Minister of Economic Development and Official Languages ​​Melanie Joly issued a statement in support of the bill, adding that "protection and promotion of French is a priority of our government."
Trudeau said, "Quebec may unilaterally amend parts of the Canadian Constitution as long as it ensures that the rest of the Constitution, including sections that protect linguistic minorities such as Quebec's Anglophone, will continue to be respected. ".
These developments relate to Salimman Sur, Professor Emeritus of Political Science at the University of Western Ontario.
"Justin Trudeau was 180 degrees opposite to his father. [former prime minister Pierre Trudeau]When the father stood up … gave Quebec a separate right to enact its own legislation, and the rest of Canada fought separate societies operating in different situations, "Mansour said in an interview.
"Until the end of the last century, the Canadian elite and people were in a decisive position that Canada had to defend itself as a nation-state and needed one law and one rule."
Since then, Mr. Mansour said, "There has been a gradual delegation of authority to Quebec, not to other states."
'

I don

'

t I think Canadians fully understand

'

The bill is backed by Bloc Québécois, conservatives, and NDP party leaders. This is related to Donald Savoie, Canadian Research Commissioner for Administration and Governance at the University of Moncton. He said it was "really amazing" that there was no more fuss about it.

"I think the leader will be careful if there are protests in other parts of Canada, but it's so profane that no one seems to have expressed concern," Saboa told The Epoch Times. Told.

"I'm amazed at the lack of interest in the rest of the country in this discussion … I don't think Canadians fully understand it."

The only protest tweeted by Calgary MP Michelle Lempel Garner tweeted: "So … Similarly, Alberta should be able to unilaterally amend Article 36 of the Constitution. That is, if you play this game, do it right."

Section 36 guarantees equal opportunity in economic development. This is what Savoie appreciates.

"I think it makes sense for Alberta legislators," he said. "It's a difficult road. If at some point all states dart in their own way, who would speak for Canada?" ? "

"My take-away lesson is what other parts of Canada are saying. That's enough. I'm not interested. Do whatever you want and leave it alone. That's what I do in other parts of Canada. It's a feeling I get from, but it wasn't 30 to 40 years ago, "Savoie added.

"If there's another referendum, don't expect Atlantic Canadians, Western Canadians to walk the streets of Montreal and ask Quebec to stay in the Commonwealth, unlike 25 years ago," he said. Mentioned the independence of. 1995 referendum..

Alberta Prime Minister Jason Kenny welcomed the progress by pondering his own state constitution.

"Alberta needs to emulate Quebec in a way that defends Quebec's interests very effectively." Kenny told Calgary Herald"We are planning a long-term strategy to build a stronger, more resilient and more autonomous Alberta state within the Constitution."

Former judge Brian Geese Brecht, senior policy fellow at the Frontier Public Policy Center (FCPP), called the bill a "true head scratcher" and hopes it will be challenged in court. Stated.

"I suspect other states will file some proceedings or proceedings, or others will not," Geese Brecht said in an interview.

In response to the bill, J. Hill, the interim leader of the Maverick Party, asks Kenny and Saskatchewan Prime Minister Scott Moe to pass a bill proclaiming English as the official language of the state and declaring the state as a nation. I asked.

In an interview, FCPP founder and president Peter Holle said it was natural for Hill to seize Bill 96.

"When I first heard this, I said," It's like pouring petrol into a Western separation file. " If I was in Wexit or something, this is gold, "he said.